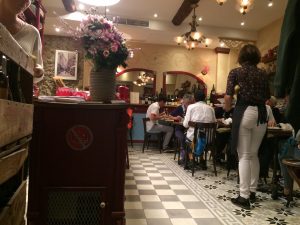 After dinner the night before at our third Crespo restaurant, Comptoir du Marche, which hit and even exceeded the heights we expected (Lynn's pork cheeks were from another planet), we planned to hit the road again for another city bus ride up the mountain to the medieval village of Eze, which is located on the planet at the geographical oddity of 43 degrees, 43 minutes, 43 seconds of latitude.
We had visited Eze the first time we came to Nice some 20 years ago, so we were eager to see if it had retained its charm or had changed with the times. The short answer is that it has not changed.
The Nice city bus 82 makes an hourly trip to Eze and beyond. The bus station is well into the back of town where we don't generally go, so we took the tram and transferred at the Vauban terminal. It's a good two block walk from the tram stop to the Vauban terminal, and it is not signed. We almost gave up and turned the other way until I spied several buses lined up to start their routes. Sure enough, the 82 was right there, with only about a dozen people waiting to board, and we departed right on time.
Three stops later, the 82 was jammed with tourist pilgrims in search of medieval culture. They poured on from two major stops right after the Vauban origination point, and we were mighty happy we boarded at the beginning.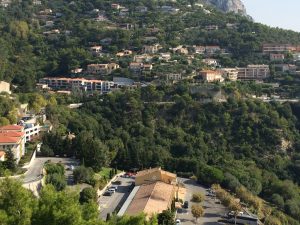 The ride up the mountain offers the usual stunning views of the coves along the Mediterranean coast dotted with mega-yachts at anchor as if sprinkled from the hands of the gods of the super rich. So many, you can't count them as the bus trundled up the mountain, passing the anchorages east of Nice in Villefranche sur Mer and other little communities of the mega-rich. The apartments and villas are cut out of the rock, perched to overlook the toys floating in the sparkling clear waters so far down below. You can breathe the money in the air.
The Eze Village stop on the 82 route is just a single post in the street. But everyone knows to get off there, and we recognized the parking lot and main entrance to the village, even though it has been nearly 20 years. Indeed 20 years do not much change a town that dates back to the Phoenicians.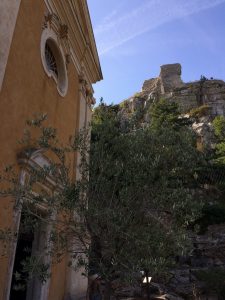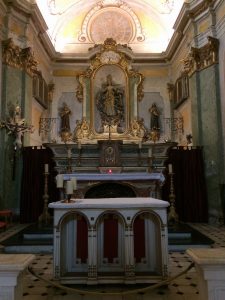 Eze is small; you can walk through it in less than an hour. We climbed up the narrow streets to the church, Notre Dame de L'Assumption, a very modest affair as European churches go. The plain exterior was built starting in 1764 and encloses a Baroque interior that is sorely in need of restoration. The signs ask for donations, because a million euros are needed to restore the fading frescoes and the crumbling plaster walls.
Along the way up and down the narrow streets, we were forced to follow, stop and work our way around groups of tourists from another continent who are the plague of European travel everywhere we have been. They move in groups, they take countless selfies, they even take selfies of each other taking selfies, they think nothing of blocking en entire street, and they permeate every city, town, walk, promenade and attraction we have visited over the last two years.
You might say they are not our favorite.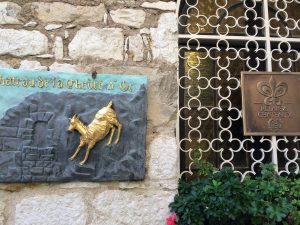 Eze has two major hotels, the Chateau de la Chevre D'Or (Golden Goat) and the Chateau Eza, which was the former home of Prince William of Sweden from 1923 to 1953. Both are five-star hotels with room rates and menu prices to match. I tried to recall which one refused us service in 1999, but either one of them certainly could have and probably was justified in doing so.
We stopped along the way down to slake our thirst, as it was that odd hour of late morning when it is too early to eat lunch but the first hint of hunger is starting to show up. A beer is the perfect answer.
I checked my handy app for the bus times, since the 82 only runs once an hour, and it looked like a bus was only minutes away to take us back down to Nice and a nicer, cheaper lunch. I was misinformed. We thought the bus came at 12:10: it actually stopped about 12:50. In the meantime, the 112 bus showed up, and after everyone at our bus stop climbed aboard, I realized that bus went down to Nice too. But it was not on my app, nor on my map. So we waited.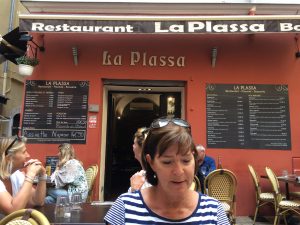 By the time we returned to the city, we were truly hungry for lunch and stopped off at our little La Plassa restaurant to split a delicious pizza and a plate of roasted peppers washed down with a pichet of red wine. The perfect way to finish a half-day journey and prep for a mid-afternoon nap.
But it is almost time to leave Nice. We fly out tomorrow on EasyJet, a cheap ticket and expensive fee airline. Their web site frustrates me trying to check bags online, knowing that the fee will be higher at the airport. But we will just have to deal with that tomorrow.
Meantime, there remains one last bit of business in Nice, our daily walk down the promenade. It's a short one this time and not a little bittersweet. There is a magic to the Nice waterfront that is unique to Nice. As much as we love Barcelona and the walk around its marinas, there is nothing quite like a stroll down Promenade des Anglais and Promenade des Etas Unis overlooking the beach of large gray smooth stones and crystal blue water. The sky was somewhat hazy today, which probably sends a message.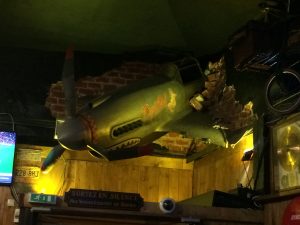 To finish off our latest (and certainly not last) visit to Nice, we hit the high spots. First, cocktails at Wayne's, speaking English to perfectly English speaking bartenders from Latvia, South Africa and God know where else. They seem to gravitate to Wayne's.
Then it was off to a farewell to Nice dinner at Chat Noir/Chat Blanc, where Giorgio and Sylvia in tandem but alone serviced a full house of diners on a Friday night. Lynn's dorado was delicious and my steak with gorgonzola was equally pleasing. We kissed goodbye, all of us, and promised to see each other in about a year.
Au revoir, Nice. Until next time.