Our friends at Fastnet actually recommended another brunch spot named Milk that is located just two blocks behind our apartment.
Milk does not take reservations for brunch, so we marched out Sunday a little after 10 a.m. to encounter a small crowd of people standing in the street waiting to get in. When I inquired about a table, the very friendly hostess/waitress put us down as the fifth two-top on the list, a wait of about 20 minutes.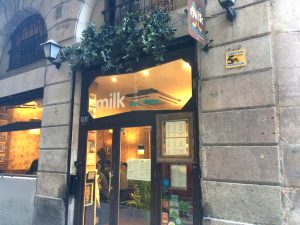 We were actually seated a few minutes early at the bar, where we customarily enjoy sitting and watching the work of the kitchen and the bar. Everyone in Milk speaks near-perfect English (as does everyone at all the Sensi retauarants), so we had no language barrier in ordering their Bloody Mary.
The bartender sprang into action. This promised to be much more than tomato juice with vodka. He asked if we liked them spicy, and we replied affirmatively. However, we asked him to spice it with Lea & Perrins (simply called Perrins in Spain–Lea must have lost his spot) rather than just Tabasco, which is ubiquitous in Europe.
He went well beyond. He added a lot of Perrins, some Tabasco, squirted a load of lemon juice and spooned out from a separate jar a dollop of some yellowish sauce that I could not recognize. Then he pulled up the jar of horseradish, and we knew we were in for something special. For a finishing touch, he drew a topper of beer from the tap. He even garnished with two olives, a slice of lime and–wonder of wonders–a stalk of celery.
The result was the best Bloody Mary was have enjoyed in Europe. And as our faithful readers know, we take Bloody Marys to the level of obsession. This is one to obsess over, and all for 6.75.
Milk couples great drinks with an excellent brunch. Lynn's Eggs Benedict were perfectly poached and the egg yokes flowed out a deep orange. The accompanying potatoes were some of the best, resembling Lyonnaise with a touch of Spanish bravas. My omelette with black sausage and gruyere cheese over wheat toast (that too was a first) was equally savory.
The line of people waiting for tables as we left an hour later was even longer than it had been when we first arrived. Our bartender explained that this happens every day.
We will arrive at 10 a.m. next Sunday, our last full day in Barcelona and this trip, and wait patiently for our last but best Bloody Mary in Europe.