One of the differences in traveling when you live in an apartment as opposed to staying at a hotel is the need for provisioning, which is one of the many advantages of calling a place home. Typically, our second day is provisioning day, and this trip is no exception, except that we kept doing it all day–and the next.
Three visits to MonoPrix, the Target of France. One quick run through Spar, the little grocer near our apartment. Procuring vegetables at the Cours Saleya market. Sausages at the boucherie around the corner. Cheese and raviolis at the ravioli store around another corner. (Different corners; it's hard to describe Old Town Nice, except that it resembles Old Town Barcelona and all of Venice.)
And of course, two trips to the wine store, fearing we may run down to anything less than a full bottle in the apartment.
Thus was spent our first two days in Nice. It makes for a most pleasant experience of being a resident and not just a tourist.
On Day Two, we circumnavigated Vielle Vieux Nice at least twice, from the spectacular Promenade on the Mediterranean, through the nearby park, across Place Massena, then all the way along the tram tracks to Place Garibaldi and MonoPrix. Along the way, we bought a lunch of pizza (it's everywhere in Nice, which is more Italian than French) and a beer that we carried to our apartment for a relaxing break from our excursions.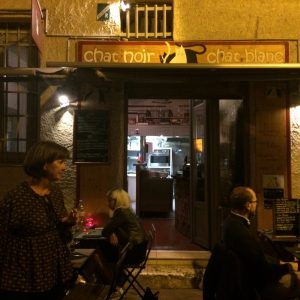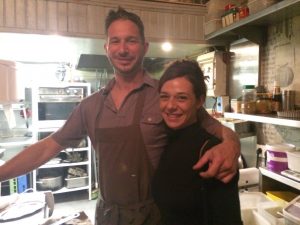 By the evening and a short nap, it was time for dinner across the street at our old friend Giorgio's Chat Noir/Chat Blanc restaurant. Giorgio shook my hand when I walked in to ask about reservations. None needed. We arrived at the so-early 7:30 p.m. dining time and met Sylvia, the fetching waitress and girlfriend of Giorgio's former partner Nikko. Giorgio informed us right in front of Sylvia that she would be leaving soon so she could concentrate on having a baby with Nikko, as she is approaching the ripe old age of 30. She smiled at this revelation, but did not disagree.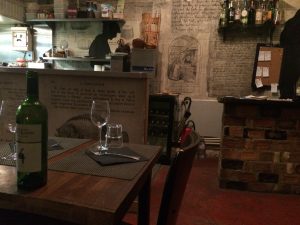 Dinner was as excellent as we had remembered, and just as quiet. We sat inside to chat with Giorgio and watch him cook, while Sylvia tended to the one table of patrons sitting outside. By the time we left, one other table had filled. Presumably the local crowd would start to filter in about 9:30 or so.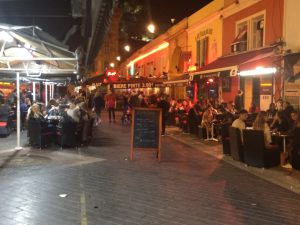 Sylvia and Giorgio gave us restaurant recommendations for Marseille, then we bade our good-byes for a late evening stroll to see the restaurants lining the sides of Cours Saleya. Most were packed. It is amazing to me and always will be that tourists will flock to restaurants that line major paths like Cours Saleya in Nice and Las Ramblas in Barcelona to eat overpriced processed food that is shown on a sandwich board or photos rather than walk one block in for a genuine local dining experience that is infinitely better by being prepared personally by a chef who cares.