Monday and Tuesday were gloomy, gray and cold, so no ambitious explorations for us Southerners. We had planned a visit to St. Paul de Vence on Monday but postponed because of the weather. So we did laundry instead, an adventure in its own right learning the operation of French washing machines and dryers. And Tuesday was Lynn's hair appointment, so that dominated the morning.
While Lynn was being coiffed, I passed the time walking up to the cemeteries on the side of Castle Hill. They are segregated into Catholic, Protestant and Jewish (Israelite in the French). The cemetery here is not Pere Lachaize, but it's impressive enough.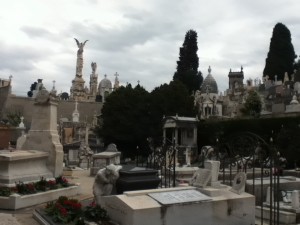 From what we have seen in Paris and Nice, the French like their family tombs, so the practice was well settled by the time they made it across the ocean to New Orleans. Maybe the story about burying above ground in New Orleans because of the water table is only half true.
Perhaps it's the weather, but Nice seems a bit more subdued this week. The Cours Saleya market, so bustling on Saturday and even Sunday, is empty on Monday and only half full on Tuesday. This is not unusual. Retailers in Nice don't seem to be consistent in their hours. For instance, the wine store was closed Sunday and Monday, opened about 11 a.m. Tuesday but at 8 a.m. Wednesday. And the patisserie on the corner of our street was closed Monday, open all day Tuesday but closed Wednesday morning. Go figure.
Perhaps the shopkeepers are casual about their hours because this is lowest of the low season. Several restaurants are closed for "congé" or holiday through January and several others are being renovated. Giorgio downstairs at dinner Tuesday night (another fine meal with a perfectly done filet mignon), commented that no one shows up in Nice until the Monte Carlo Grand Prix. Then the crowds descend and stay through the summer and fall.