The bus ride from Nice to Monaco is one of the most scenic tours you can enjoy anywhere, as the route hugs the mountains through Villefranche, Ail and then into Monaco with continuous views of the Mediterranean and magnificent harbors below.
This for 1.50 euros, payable when you board.
When you get off the bus, you can just smell and sense the money in Monaco, where every other car is a Lamborghini, Bentley, Porsche or Ferrari.
The sky finally cleared after three days of gloom, and the temps warmed nearly ten degrees F. A perfect day to wander the Monaco waterfront for boat-watching.  We started with a visit to the Yacht Club of Monaco to ask if we could get in for a quick drink. The very pleasant and polite receptionist said they would be happy to accommodate us if we have a letter of introduction. Alas, we did not, but we will know better next time.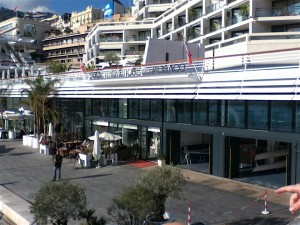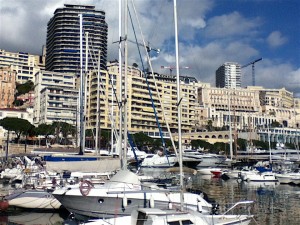 The marina was quite accessible, as we walked right along the waterside. Power yachts in the 200-foot range were lined up by the dozens, but so are regular boats for regular people. We grabbed a pizza and beer at a waterfront cafe right in front of few of the big ones and adjacent to the human-sized boats.
Lucky us–we happened upon Monaco on Media Day of the Monaco Rally, and the little cars were hammering out screaming donuts across a 200-yard slalom course on the street just above the waterfront.  We were able to watch the spectacle eyeball-to-eyeball, so to speak. As in really, really close.