After nearly three weeks in Nice, we are searching for new experiences, and Lynn found that we had not visited Cimiez monastery when we were next door at the Matisse Museum.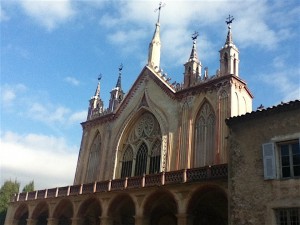 The church is smaller and simpler in the Romanesque style than the Baroque eye-candy in our neighborhood. But the ceiling frescos are worth the visit, and most of the paintings in the side altars date back to the late 15th and early 16th centuries.
The monastery was established in the 9th century and is the site of the founding of the Franciscan order in the 13th century. Situated right across the little park from the Matisse Museum, the monastery has its own gardens and cemetery, where Matisse is buried.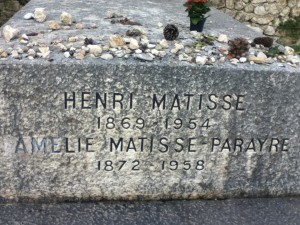 The gardens are extremely well maintained and display quite a bit of greenery and color even in the dead of Nicoise winter. Of course, orange and lemon trees are everywhere, reminding us of the fruit on our own trees at home going unpicked.
On our way out from the monastery, we stopped for lunch in the park facing the Matisse Museum. This is a delightful green space where families bring small children, people bring their dogs and old men play boules, the French version of bocce, except is it played with metal balls.
The circular park features busts of the great jazz musicians, all of whom are American and one of whom is a New Orleans native son.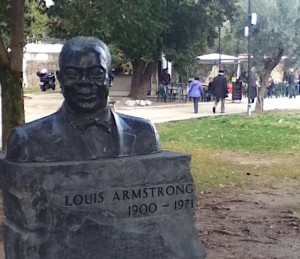 When we returned to Place Massena, we caught a new view of the Carnival stands and infrastructure being built for the celebration here that actually starts after Mardi Gras. What do these people know about parades–they only have two that roll several times over the course of the two-week celebration. And only one, the flower parade that rolls along the promenade, throws anything. Flowers. Who would have guessed?
Apparently, the Nice Carnival is a manufactured event dreamed up by the Tourism Bureau only about 20 years ago to bring tourists to town during the down time of off-season. (Where have we heard that before?)
Huge grandstands line two sides of Place Massena, and part of the Place is already barricaded off for what looks like a broadcast studio or mobile police station.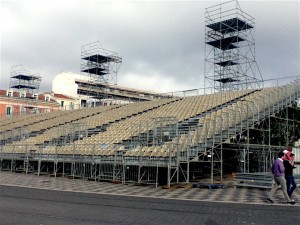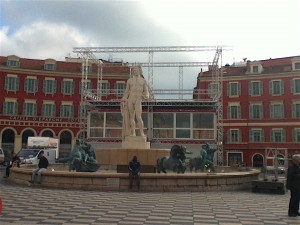 Boy, what could we teach these folks about Carnival.