Saturday we booked a wine tour through Chianti that went on for nearly seven hours through two wineries and a medieval village. The tastings in each castle included four different wines, all with generous pours for a tasting, plus two types of olive oil at each, balsamic vinegar (two types at the second, including a 20-year old), salami and cheeses. And we had just consumed a very good but very filling lunch right before joining the tour.
We got our money's worth, both at lunch and on the tour.
We lunched at Vecchio Mercato across the street from the Central Market, where we had shopped for Saturday's dinner (two beautiful fish fillets) and a bottle of Montalcino, the "king" of the Chianti region wines, according to our first stop on the tour later that day.
Vecchio Mercato was where we had eaten lunch last Sunday, our first day in Florence. It was good then, but outstanding Saturday. We both ordered the lasagna, which comes out hot and creamier than we are accustomed to in the U.S. Italian lasagna uses a bechamel sauce instead of the more conventional American mixture of ricotta and parmesan cheeses. The basic lasagna dish at this restaurant costs all of eight euros, and the half liter of house wine is six more. Quite the bargain.
Starting right after lunch, the wine tour took us up the hills south of Florence into the Chianti region and tastings at two different wineries. Our fellow tourists were all English speaking, predominantly college-age students on their junior year abroad spending their parents' money. There were a few adults in the bus, but we were clearly outnumbered by the giggling gaggle of chattering college coeds. The word "like" was used incessantly, which to Lynn's ear is a about the same as a fingernail scratching a blackboard.
(That expression too is a relic, since no school uses blackboards anymore. How will Millennials describe ear-piercing tortuous screeching sounds?)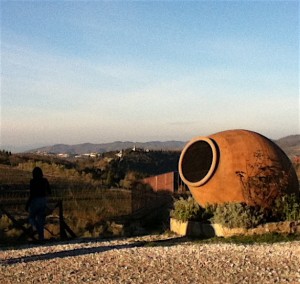 Both wineries offered us tastings of Pinot Grigio, Chianti Classico, Chianti Classico Reserva and a Super Tuscan from their own vines. The first winery, Tenuta del Palagio, located in a medieval castle dating back to at least 1252, also offered tastings of salami and cheese to go with the wines, then bruschetta with three different olive oils and balsamic vinegar.
The second winery, Amorelli, also located in a medieval castle about 30 minutes away, served the same four types of wine accompanied by two cheeses, the second with 20-year-old balsamic vinegar; slices of rich, delicious salami; bread; several bruschetta drizzled with their proprietary olive oil, balsamic vinegar and truffle oil and all topped off with a final shot of their Grappa.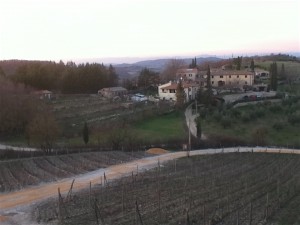 We did not walk away hungry. Or thirsty. It wasn't overkill, but the presentation and tasting at the Amorelli winery was a bit rushed, and the representative had a hard time talking over the coed chatter to explain the different wines, oils and vinegars. (Really, do we all need to know how drunk you got last night at that wine bar?)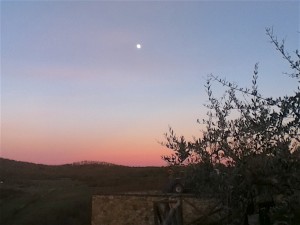 By the time we returned to Florence after a completely unnecessary speed dash through a medieval village, it was 7:30 p.m. We trundled off the bus, thankful for the walk back to the apartment and decided to eat leftover pasta and save our fish for the next day. But that didn't stop us from enjoying another glass of tasty Italian wine for the evening. Here's to Chianti.