San Lorenzo, the Medicis' personal church, is famed for its New Sacristy, which was designed by Michelangelo to function as the Medici family mausoleum. We had visited San Lorenzo before, but the New Sacristy is a separate admission.
It's well worth the extra charge. Don't miss it if you visit Florence.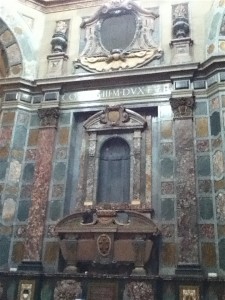 Inside, Michelangelo's famous tombstone sculptures dominate, but the building's overall effect is stunning. The elaborately colored marble floors with the Medici coat of arms and the seal of the city of Florence greet the visitor. Far above, the brilliant paintings in the dome seem to reach down so you feel you can almost touch them. And the tombs themselves attempt–with considerable success–to magnify the magnificence of their occupants.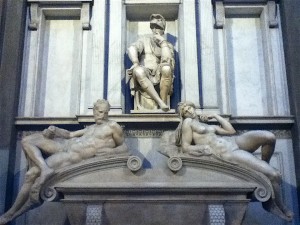 Michelangelo also carved a Madonna for the more modest tomb of Cosimo I, but it and several others were not finished, because the artist was called to Rome by the Pope for another chapel job.