Getting to your destination from New Orleans is always a challenge, but the trip to Lisbon turned into what felt like a marathon.
Delta rerouted us to Atlanta via Paris, a flight we have taken before. The good side of that is Air France's version of Economy Plus is just short of Business Class. In fact, there is no Business Class in Air France. Our seats were fully contained pods, complete with the travel package of eyemask, socks and a toothbrush. In First, passengers also get slippers, but I can live without those.
The flight was a relatively quick seven and a half hours, followed by a march across Charles de Gaulle through passport control (almost unoccupied, thankfully), then another security line (the French take no chances these days), and on to our gate for the Lisbon flight. No Economy Plus on the cramped A319 for two hours to Lisbon, but not at all unpleasant. Our flight attendant spoke flawless French and U.S. English without so much as a hint of an accent. She showed the most radiant smile I have ever seen on an airline, which carried through even at the baggage claim, where we all waited at least a half hour for our luggage to arrive.
Hugo from Friendly Apartments was right there waiting for us with my name on a sign, and escorted us to his Mini, as he explained that traffic was bad because of a taxi strike at the airport. The cab drivers in Lisbon are up in arms against Uber. (Join the worldwide club of taxi monopolies opposed to the creative destruction of technology and consumer choice.) The Lisbon cabbies chose this week to vent their anger by massing their cars at the airport, choking access both in and out. We circled around the perimeter of the airport a few times before escaping.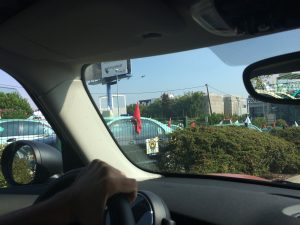 Thank goodness we made arrangements to have Hugo drive us straight to our apartment in Alfama, the oldest part of Lisbon. We would never have found it, and neither would have a taxi, even if one had been available.
Our apartment is tucked between two sets of 100 stairs each, unaccessible by any vehicle. Hugo parked on the street above and walked us down to an elevator that avoids most of the 100 steps.
Our apartment is spacious (at least by Paris standards) and offers a view straight out to the Tagus River and Sao Miguel Church. A steep, narrow street runs alongside our building, leading more or less down to the church. Back up to the level where we left Hugo's car is a plaza overlooking the river where tourists gather to catch the views and take selfies. All around, the atmosphere is active, noisy and fun.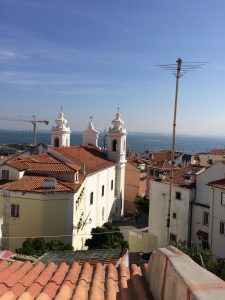 By the time we arrived at the apartment, it was 2 p.m. Lisbon time, which was 8 a.m. on our CDT bodies. Traveling from New Orleans to Europe is the exact equivalent of racing a sailboat from Gulfport to Pensacola. It takes about the same amount of time, and you get about the same amount of sleep–a couple of hours here and there curled up in odd postures, whether around a sail bag or in an airline seat. And the toll on the body is just about exactly the same.
So is the recovery period. You arrive physically exhausted but excited to be there, so after a quick nap, we walked back up to Sao Vincent's plaza for a cold beer to slake the travel thirst and grab a snack to stave off hunger until proper dinner time. Then on to a small grocery in the neighborhood (there don't seem to be any larger ones) for some basic provisions, including a couple of bottles of wine. I chose one expensive bottle–4.95–and one more moderately priced, but not the cheapest at 2.95. The two-buck chuck tasted just fine.
After another nap, we decided to walk down to the riverfront to see where the Hop On Hop Off bus stops. Once we found the nearest stop, we started our ascent back up the hill–and got completely lost.
An hour later, we finally found our apartment. We had walked around and around the same area, sometimes not more than a couple of blocks from our apartment. And that was using Apple Maps, Google Maps and Waze on our phones. Luckily I had taken a photo of the street sign painted on our building, so we were able to plug in an address. Otherwise, we would still be wandering Alfama, which Lynn perceptively described as Venice with hills.
Hint to the direction-challenged traveler–always plug your address into whatever mapping software you have in your phone. That gives you a fighting chance of following your breadcrumbs back.
By now truly physically exhausted from our climbs up and down the cobbled streets and alleys of Alfama, we collapsed for yet another quick nap before launching out in search of dinner.
Remarkably, on a Monday night in October, which should be well past the peak travel season, the first two restaurants we tried were full unless you had reservations. We walked back down instead, and just past Sao Miguel Church, we found the restaurant Sao Miguel d'Alfama where we were seated in the middle of a line of two-tops pushed together like a community table.
The restaurant featured live fado, the traditional music of Portugal. A single vocalist accompanied by a rhythm guitar and a 12-string Portugese guitar sings songs that resemble flamenco, no less passionate but with a little less anger. The group played directly behind us, eliminating all chance of conversation for a few minutes until they finished their set of four songs.
Lynn ordered the grilled sea bass, which came out whole and expertly prepared, quite tasty. My pork stew included small clams and vegetables with a tart, tangy flavor. The pork pieces were a bit dry, but overall the dish was reasonably tasty. Each was 15 euros, quite the bargain by anyone's standards. Sadly, to me, anyway, the restaurant does not take credit cards, even though their card machine sits right on top of the boxes that look like old books that they use to bring your check. We were too tired and too full to visit the dessert table behind us.
This time, we followed the steps straight back to our apartment, where we fell into that delicious first-full-night sleep.