Once the rains cleared out, the last two days in Nice have been spectacular. Now we know why the rich Europeans migrated down here in the winter.
Friday we climbed up Castle Hill, where forts had been built to defend the city as far back as the Romans.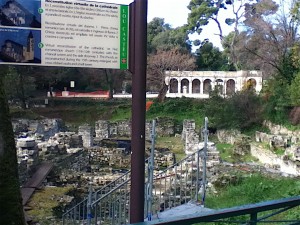 Much later, in the 16th century, the defenders of Nice built a fortress of their own to repel invaders, but Louis XIV had the fort taken down during one of the brief periods when France ruled Nice. It's never been rebuilt since.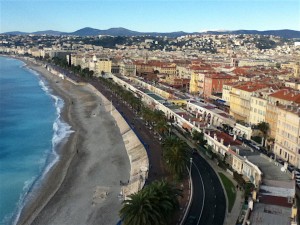 The views from Castle Hill are worth the 90-meter climb, which is actually fairly gentle with lots of stops for views and photos. The views from the hill overlooking Nice are spectacular, and our visit to the Museé Messena on Saturday confirmed that those views were pretty much the same all the way back to the 19th century.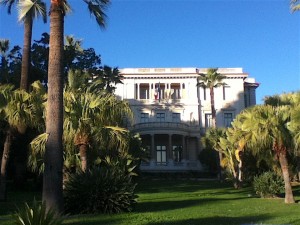 Nice is as much Italian as French. Here in the Vieux Ville the street signs are in two languages, and pizza is as prevalent in on the streets as baguettes. As our waiter one night told us in perfect English, "I am from Italy; most people here are Italian."
For much of its history since the Romans, Nice has been part of either the regions of Piedmont, Sardinia or Savoy. The name Savoy in Italian and French is spelled Savoie. You might recognize that name in south Louisiana.
Nice was taken over by the French from those various houses of what is today modern Italy for several centuries. It did not become officially and finally part of France until 1860. And that was after an election of the people that was widely accused of being rigged.
Nice as we know it today is a combination of Miami and Newport. European aristocracy and the uber-wealthy (often the same group) in the late 19th century discovered that winters in Nice are quite a bit more pleasant than they are in London, St. Petersburg and Berlin. So the snow birds a century ago built elaborate hotels and homes to spend their winters among the palms and citrus trees while gazing out over the blue waters of the Mediterranean.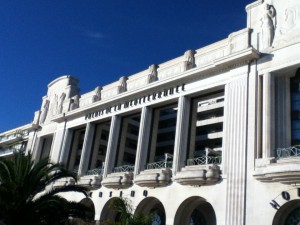 Today Nice is strictly a summer resort. Even the storied Hotel Negresco can be booked for less than 200 euros a night in January, and most of the other spectacular hotels along the Promenade des Anglais can be had for less than 100 a night.
But we have been told by the locals that in the summer you literally cannot see the ground because the crowds are so big. I guess the rich Europeans, Asians and Arabs have migrated farther west and south to winter in Miami and the Caribbean. They don't know what they are missing.