Our never-ending Bloody Mary research took us to Wayne's Bar two blocks away in search of the quintessential Sunday morning beverage. Wayne's is an unabashed English-speaking establishment, our bartender Tom is from Perth, Australia, and he mixes a mean Bloody Mary, the best we have had yet in Europe. I think we have found our Sunday morning brunch-and-Bloody spot for the next two weekends.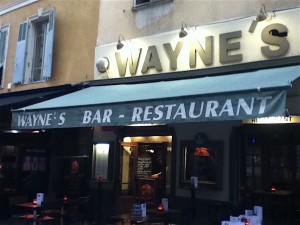 Wayne's is also a sports bar, with a subscription to SkySports, which holds broadcast rights to the NFL in Europe. Tom promised that they would turn one screen to the NFL Sunday evening. The prime screens, of course, would be dedicated to the other football. God knows why the rest of the world enjoys men running around in shorts falling down in agony from the least amount of touching below the waist, all the while kicking a round ball up and down a large grassy field without actually scoring any points. Americans like points, get it?
Sure enough, we showed up right at 7 p.m., the game popped up on the TV and we plopped down in our chairs for a bottle of wine and some bar food. We started with (no kidding) Cajun Chicken Tenders. When you see that on a menu in Nice, France, you just have to order it. Believe it or not, they were just fine, seasoned with Provencal spices and accompanied by a savory aioli.
The cheeseburgers we ordered were not as good, because they just weren't that hot. They were either left on the dumbwaiter too long (Lynn's theory) or just weren't cooked enough (Tom's). But for 6.90, when everyone else's burgers go for 11 and up, we'll just get Wayne to cook them a bit longer next time.
Drinks are also a bargain at Wayne's. They serve 7-year-old Havana Club for only 7 euros; everywhere else the tab is at least 8 euros for the 3-year-old. Faithful readers of this blog know how I feel about Havana Club. Gotta bring some back.
Next Sunday the full brunch.