For Thursday's dose of culture, we visited the Thyssen-Bornemisza Museum, the second of the Big Three along Paseo del Prado. The Thyssen is really two museums in one. The original was donated by a really, really rich family who donated their palace and art collection to Spain in the early 1990s. The second and somewhat separate section, which is housed in an extension of the original building, was donated by the last Baron Thyssen's widow, who did not start collecting art in her own right until 1987. Six years later, she donated her own collection to Spain.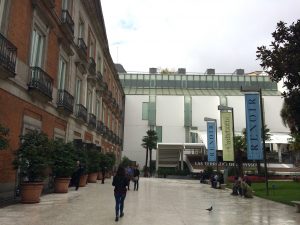 The result is something like a museum within a museum or two connected museums that really could (and probably should) be combined into a more unified presentation. Each of the two collections is well organized chronologically and in some cases thematically. But each more or less repeats the same chronology, ranging from early Renaissance through to the present day, with each displaying an impressive collection of Impressionist paintings.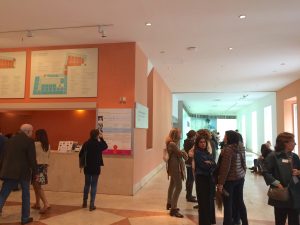 Before entering the main attraction, we paid extra to see the just opened temporary exhibit of 70 Renoir paintings, deftly organized thematically, with rooms devoted to portraits, children, family, landscapes, and other of Renoir's favorite subjects. Notably, one of the paintings on display is from our very own NOMA.
Unfortunately, the exhibition ends with a long line of visitors waiting to enter a very small room where your are supposed to use all your senses to experience one of Renoir's paintings that is in Thyssen's permanent collection. The room is too small, the experience to ephemeral to bother with, and the process just clogs up the exit from the exhibition. The curators should have placed the experience room at the beginning of the exhibit to control the flow of visitors entering rather than at the end, which restricts the flow of people exiting. I will be sure to tell them that next time they ask me about exhibition design.
Overall, the combined Thyssen is a fine museum, even though it suffers somewhat from its bifurcation. Must have been something in her will. Regardless, we spent nearly three hours there.
By now famished for lunch, we started down a side street looking for local restaurants and decided to pop in to what looked pretty promising. But we quickly learned that it was a vegetarian restaurant with only a very limited daily menu. We ate there anyway, not wanting to continue our quest for food past the middle of the afternoon. My salad and vegetable fritatta were fine, if undistinguished, but Lynn's vegetable soup was bitter, and her stir fried peppers were just ordinary. Don't go to Madrid looking for seafood or free-range, fair-trade healthy vegetarian cuisine. But the beer was cold.