For three days, we gorged ourselves on Barcelona's favorite son and breathtakingly brilliant architect, Antoni Gaudi.
In successive days, we visited Casa Batlo and Casa Mila, private homes two blocks apart, Colonia Guell crypt outside town and finally Sagrada Familia.
None of these attractions is a bargain. The two house museums are pretty dearly priced tickets, each about 20 for adults, and the Sagrada Familia was 51 euros for the two of us, even after my senior discount. But they all include excellent audio guides for the price, and we paid a bit more to access the tower views in Sagrada Familia. (Don't ask Lynn about the descent down some 400 steps from the Passion Tower.)
Believe me, they are all well worth what you pay.
Sinewy, sensuous, stunning, dripping, melting, colorful, impressionistic, naturalistic, eclectic, inventive, innovative, skeletal, audacious, breathtaking, astonishing–and just describes the exteriors.
Gaudi was such a genius perfectionist that he designed his own furniture and fixtures right down to the door knobs and drawer pulls so they would naturally fit the hand. He created architectural modeling techniques a century ago that only recently have been made commonplace by computers and 3-D printers.
He understood that generational works like Sagrada Familia extend beyond a single lifetime. His workshop under Sagrada Familia is still active, with artisans working behind glass walls while we visitors gawk in. The basilica is still under construction based on his designs from 90 years ago. It is expected to be completed in 2026, a century after Gaudi's tragic death from being run over by a tram car.
Casa Batlo actually was a renovation of a building that Gaudi had originally designed himself some 30 years before, very early in his career. Both Casa Batlo and Casa Mila were private homes for their owners with several apartments added to offset the cost of ownership. And we think we do well with a double in New Orleans.
Incredibly, people still live in private apartments in both buildings. Wonder what those rents must be.
The crypt at Colonia Guell would have been a mini-Sagrada Familia if it had ever been completed. For reasons which are never made clear in the various accounts both on site as well as in literature, the project was abandoned before it could be completed, and only the ground level was built. But the models of what would have been the upper level of the church are on display in at least three different museums we have visited.
Colonia Guell crypt would had been fantastic if completed. As it stands today, it is merely another Gaudi marvel of ethereal light and diverse materials. Gaudi even designed the pews to fit local posteriors.
The trip out to Colonia Guell is a very pleasant six euro round trip regional train ride from Placa Espana. Other than the church itself, we found the community only mildly interesting as a company town built at the end of the 19th century. There is an informative historical exhibit in the tourist information center, and the town is extremely helpful for tourists to find the center. You just have to follow the blue footsteps painted in the sidewalk from the train station to the information center.
And we did find a wonderful little place to have lunch. Overall, our trip was a very pleasant excursion that took up the better part of a day.
Then there is Sagrada Familia. This was the second time we toured there. I can promise it's even better the second time, and I can promise there will be a third time if we ever get back to Barcelona. And a fourth. There is so much there, and more will be added over the next ten years until its expected completion in 2026. We plan to be there for the dedication of the finished building. If that ever happens.
Hint #1–don't bother paying extra for a guided tour of Sagrada Familia. Buy your ticket online that includes the audio guide, and you can walk right through the gate at your appointed time. The advantage is you get to spend as much time as you want in the church, plus you can tour the fascinating museum underneath, all at your own pace.
Hint #2–go in the late morning, and you will hear the Angelus and Ave Maria sung in the cathedral at noon. What a bonus; hearing it would convert an atheist.
Hint # 3–see hint #1 for the two Gaudi houses. Both sell tickets online (although when we went over in the middle of the week, there was no line at all to buy tickets at either), and both have excellent audio-visual guides to take you through the buildings. The AV guide at Casa Bitlo is particularly excellent, incorporating virtual reality in the visual portion of the tour.
Enough words. Just enjoy some photos.
Casa Batlo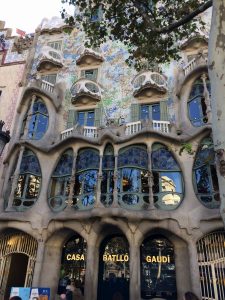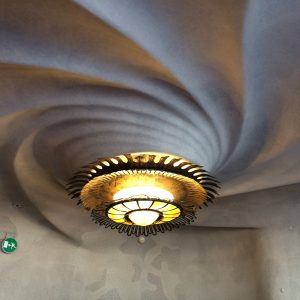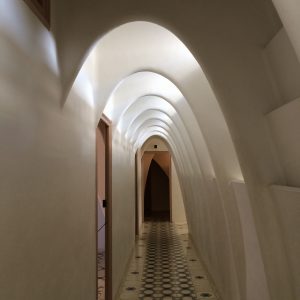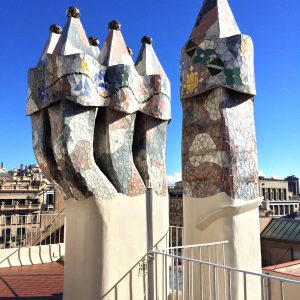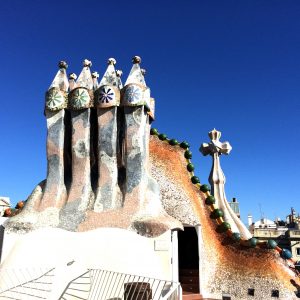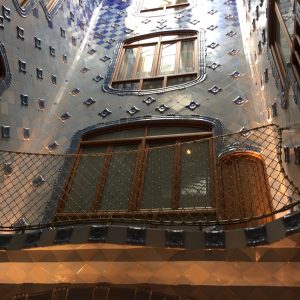 Casa Mila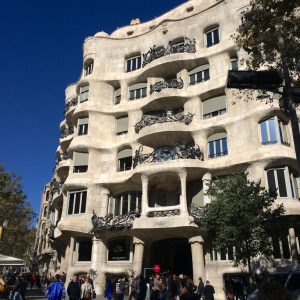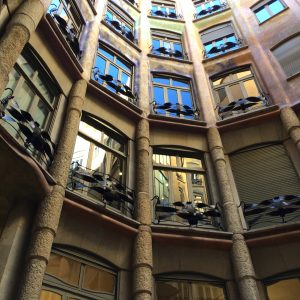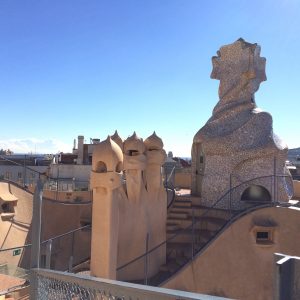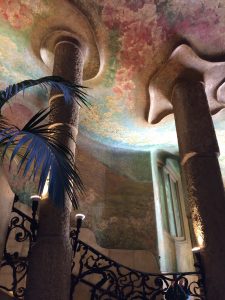 Colonia Guell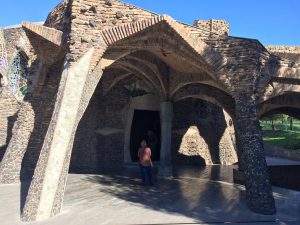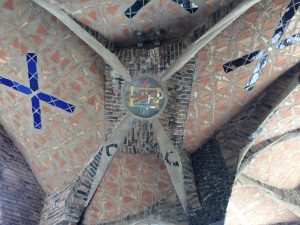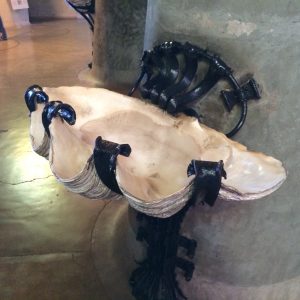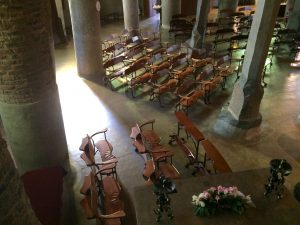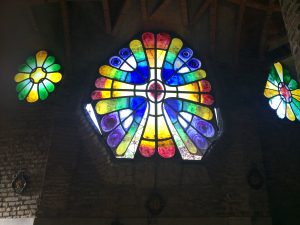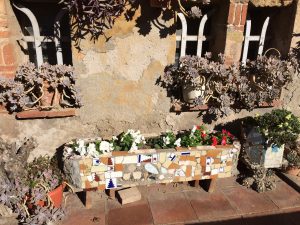 Sagrada Familia