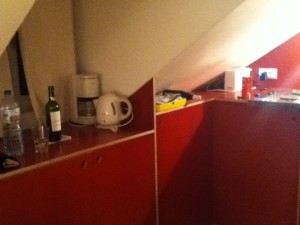 A mostly uneventful flight from New Orleans to Atlanta to Paris under the same Delta flight number. No matter–we had to transfer to another plane three terminals away in Atlanta. The flight leaves New Orleans at 12:15 p.m. and arrives in Paris at 6 a.m. That's a fairly quick ride to France, because it is only 11 p.m. our body time when we land.
Charles de Gaulle Airport to central Paris at 7 a.m. is peak rush hour. It took an hour and a half through solid traffic in the dark on the A1 into town. Dawn in Paris at this time of the year, just days before the soltice, comes no earlier than 8 a.m. It is a function of the latitude (49 N) and longitude (2 E). the days are short in the winter, but Paris on Central European Time is about the same longitude as London, which is an hour earlier. And Spain is also on CET, which makes their days even later.
Our garret apartment on the third floor (fourth by American standards) is accessed by a very narrow and steep stairway. Thankfully we will only go up this way with luggage once.
Inside is like living on a boat. We have done this before, but not with winter clothes.