Monday was sort of a bifurcated day. I had to move a press release for the Zurich Classic at 7 a.m. CST, which is 2 p.m. our time here in Barcelona. So we needed to be back home about lunch time without having time for a big lunch.
We needed a few things for the pantry and had wanted to visit Mercat Boqueria, Barcelona's largest market and located just off La Rambla. Boqueria is indeed huge and packed with people streaming through the narrow aisle between the stalls. Lynn easily found the sausage she was looking for and the peppers to cook with the sausage. We also located a very nice wine store featuring Catalonian wines and others at reasonable prices. Following Boqueria, a short walk up La Rambla took us to the Carrefour, where we bought a bag of coffee to wake us up the rest of the week.
Loaded with our Monday market shopping, we ducked away from the bustle of La Rambla and into the quiet narrow streets of Barri Gotic in search of an early simple lunch. After a couple of detours at shoe stores for Lynn to check out boots, we stopped at a little shop right around the corner from our apartment that we have seen several times with a line stretching out into the street.
No wonder. The place is tiny, just a couple of tables and a counter. It is a Greek-Spanish establishment that features bocadillos (Spanish poor boys) to take out and tapas to eat in. For 4.50, we grabbed a 12-inch chicken bocadilla fully loaded with feta cheese, two different sauces, lettuce, tomatoes, peppers, olives and lentils. It was plenty for both of us, accompanied by a small glass of wine.
Press release released, we went back out for another stroll, this time to the harbor to see yet more boat porn, a third maxi yacht that had just pulled up alongside the quay behind the Phoenix2 and the Mayan Queen.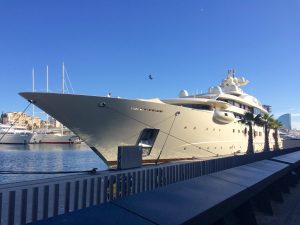 Ona is even bigger than the first two, topping out at 110 meters (363 feet). It was built in 2008 by Lurssen, the same shipyard that built the Phoenix2 parked right in front of her. My research could not identify the reclusive owner, but did discover that he is in the process of building a replacement to Ona that will be about 156 meters (500+ feet). Ona is apparently not a one-owner boat, having been previously named Dilbar. In her present configuration, Ona can carry up to 20 passengers and a crew of 47 at a cruising speed of 18 knots.
While I could not discover the nae of the owner, I did learn that he is building a new boat of some 500+ feet. So Ona will be on the market soon.