Barcelona has a number beaches, some of which are quite near us in adjacent Barceloneta, the neighborhood where the Fastnet bar and Somorrostro are located. We have walked near the beach many times but never actually strolled along the sand and viewed the Mediterranean.
After a post-Milk Bloody Mary/brunch nap, on another gorgeous autumn Sunday in Barcelona, we set out for the beach.
The city beaches are well maintained and artificially refreshed, with breakwaters quite a bit like the Mississippi Gulf Coast every quarter mile or so to reduce the inevitable erosion of the sand out to sea. Our bartender at Penny Banger told us the better, more natural beaches where the locals go in the summer are several kilometers up the coast in Costa Brava.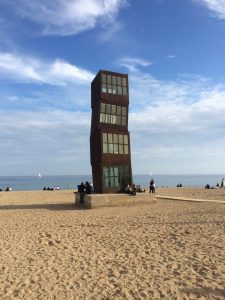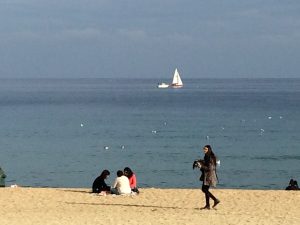 Nonetheless, on this beautiful Sunday, Barcelona's nearest beach was crowded with families, residents and tourists. And merchandise sellers. By the hundreds.
We have seen these guys (rarely a woman) all over in just about every city we have visited in Europe. But never in the numbers that lined the Barcelona beach that Sunday. Almost exclusively African, each one lays out a blanket with ropes tied to all four corners joined in the middle so the entire haberdashery can be pulled up and moved out in seconds when law enforcement shows up. We have seen them near the bridge over the marina here, in front of rail stations everywhere, in the squares and plazas and bridges and riverfront walks of all major cities.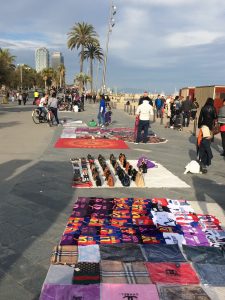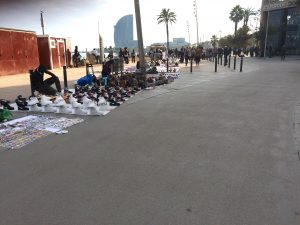 But never in these numbers. They stretch on for nearly a mile. And this is just one beach. Each "vendor" sells only one kind of merchandise–purses for one, sneakers (mostly Nike) for another, bracelets, key chains, scarves, and on and on. The selections actually repeat themselves–once you walk past about a half dozen, you start over with purses, sneakers, scarves, key chains, etc. all over again. Lynn theorizes that they are all independent operators who pick up their merchandise from a central warehouse that dispatches them to certain geographic areas.
All the major luxury brands are there–Gucci, Burberry, Louis Vuitton, Nike. I'm sure they are all genuine.