We have seen so many museums, they tend to run together. But we keep searching and visiting and marveling.
One that we have long wanted to see but for some reason had never visited was the National Catalonian Art Museum perched up MontJuic park overlooking Barcelona and the Placa Espanya. Getting there was a most pleasant walk through MontJuic's gardens and water features after a scenic funicular ride up the hill.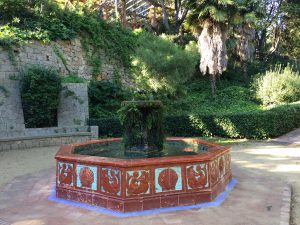 Once again we turned down the hill too soon and found that somehow we had missed the monumental museum building. Luckily for us, the Barcelona government has installed a series of convenient escalators to whisk visitors to the museum from the bottom of the hill.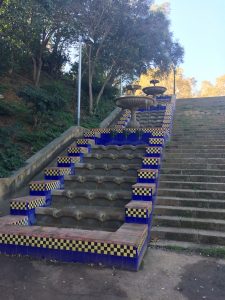 The museum is housed in a most impressive building that looks like an ancient castle or capital but in fact was built in 1929 to house a museum. How convenient.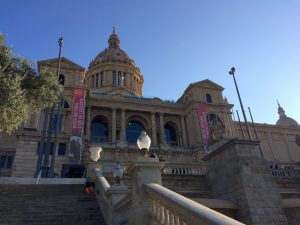 The National Museum of Catalan Art is noted for its collection of Romanesque church paintings, all salvaged from ancient buildings now destroyed. The collection of Gothic paintings is also impressive, and the Renaissance and Baroque rooms display a large number of excellent examples of El Greco, Velasquez and Ribero. It also includes an large collection of modern art and design, including two rooms exclusively devoted to Gaudi's furniture.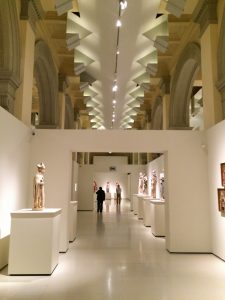 It's not a small place; it took us all of three hours to walk through the collections, including a stop for lunch at the cafe on the edge of the huge performance hall.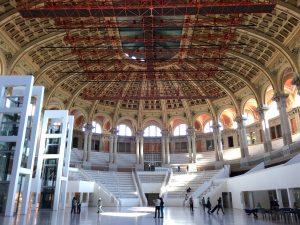 One awfully considerate aspect of their ticket pricing is that seniors pay nothing at all. And the tickets are good for two visits within a month, just in case you can't get through the entire place in one trip.
The next day Lynn found reference to the Frederic Mares Museum, which we had never heard of but is located right behind the Barcelona Cathedral and the Gaudi Museum. How we had missed this for the last three weeks is a mystery, as we have walked past there literally dozens of times.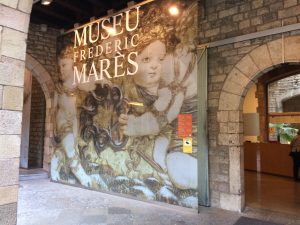 Frederic Mares was the most distinguished collector of Catalan art in the 20th century. He donated his entire trove of sculpture and–what else can you call it?–"stuff" in 1946. Mares was a noted sculptor in his own right, and some of his works are also on display. The massive collection is now housed in a restored section of the old Royal Palace of Barcelona next door to the cathedral.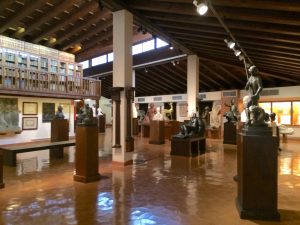 The museum is organized into two sections. The first is the collection of sculpture ranging from ancient times to the 19th century. Mares collected scores of pieces on the same subject. Entire rooms are filled with Gothic Madonnas. Other rooms hold dozens of Gothic crucifixion statues, some larger than life sized.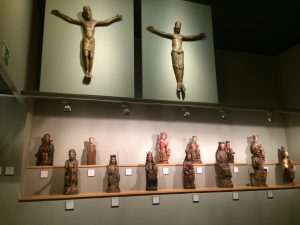 One room even showcases an entire portal of a Romanesque church salvaged for display before it was completely destroyed.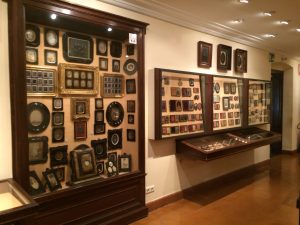 The second major section, called the Collector's Cabinet, consists of room after room of "stuff" from Mares's personal collections.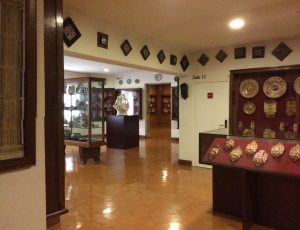 A room of fans. A room of pipes. A room of jewelry. A room of watches and clocks. Plus rooms of photography, toys, keys, pharmacy bottles, posters, documents and on and on consisting of no fewer than 17 galleries. All crammed full of stuff.
The impact is overwhelming, because you just can't view everything. Mares must have never thrown away a thing, the ultimate hoarder.