Sunday. Last day in Barcelona. It's a lay day, because we have done just about everything we wanted or could do in the last three weeks. But it is also a getaway day, so a few good-byes must be said.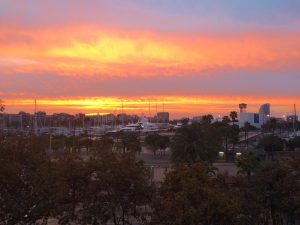 Brunch at Milk. Still the best Bloody Mary in Europe. The yellow stuff being spooned into the mixture was celery salt, exactly what we add at home. And he squirts an enormous amount of citrus from a squeeze bottle into the concoction. Plus the beer topper. Not sure I will try that at home.
Eggs Benedict are near perfect. Well, maybe just completely perfect. The eggs are expertly poached. The yolks run a rich, deep orange. You can use the toasted baguette to mop up, but the Lyonnaise potatoes are even better. We timed our entrance precisely at 10 a.m., walked right in and were immediately seated at the bar to watch the masters at work. Within 15 minutes, we could see in the back bar mirror a crowd of petitioners waiting in the street for their turn at Barcelonan brunch excellence.
We waddled back the two blocks to our apartment for a quick respite, then walked up to the cathedral to see if the band was playing this Sunday and the locals were dancing the traditional sardana we had seen our very first day here. To our disappointment, there was no band on the steps of the cathedral, no group dancing. The placa is taken over by scaffolding and lights for the Christmas celebration (aka sales tents) that will start next weekend.
(By the way, since Spain and Europe are not burdened by Thanksgiving, they have already started Christmas decorations and promotions. Milk was festooned with garlands and a Christmas tree when we walked in earlier today. Signs have been posted for at least a week on the major shopping thoroughfares like Passeig de Gracia promoting the beginning of Christmas shopping any day now.)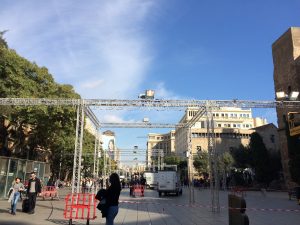 No dancing, no music at the cathedral, so we made our way back to the apartment and started to do a little advance packing. We have found that packing 75% in advance saves 90% of the hassle and stress on getaway day.
Then it was off for a last walk through the harbor to look at the monster yachts. Ona had already departed, leaving Phoenix2 and Mayan Queen to loom over the quay. They are still massive, still waiting to head to the islands for winter.
And after that a final visit to Fastnet, our Irish sailing bar in Barceloneta. Mariola, our Polish/Irish bartendress, welcomed us warmly, and as she drew our last beers, she announced that she too would be leaving Fastnet in a week to go back to Poland for Christmas then return to get another job in Barcelona. We bade safe travels to each other and promised to ask after her at Penny Banger when we return. They will know where she winds up.
Finally, it's off to Sensi Tapas for our last supper in Barcelona.
As always, Sensi was superb. Made for Americans. Comments about that another time. After dinner drink at Penny Banger. Good night and good bye, Barcelona.