It's still cold and rainy in Paris. This is what Parisian winters are supposed to be. We were incredibly lucky last year. Reversion to the means is catching up with us.
We woke up comfortably late on Friday and managed to get out of the apartment in time for lunch at our old favorite, ChantArielle, across the street from our old apartment on rue Laplace.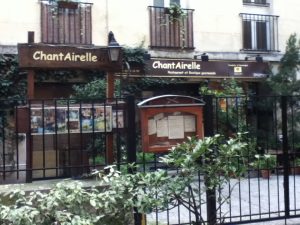 It's a 15-minute walk down trendy rue Mouffetard to rue Montaigne St. Genevieve, where the church is located honoring the patron saint of Paris. The proprietor at ChantArielle briefly flashed that funny look of "I have seen you before" as we walked in to ask for a table without a reservation.
All jestfully whining aside, the weather here is weird. While we sat enjoying a wonderfully simple country lunch, I saw bright blue sky above in the courtyard. A few minutes later, I saw ice falling from the bright blue sky. It was still sleeting slightly when we walked out of the restaurant after finishing lunch, as we bid our au revoirs to the owner.
Later that afternoon, the weather was not getting any better, so we decided to take the bus to Tour Montparnasse, Paris's tallest building that features a 360-degree (almost) view of the city below, with touch-screen interactive monitors to explain what you are looking at more than 500 feet below. We could see the rain and fog move across the city from our airy perch.
The route to Montparnasse runs along rue Royal and some of the most famous bars in Hemingway's Paris. Closeries das Lilas, La Rotonde, and Le Select are all right along the bus route. Had it not been so nasty, we would have walked back and drank a drop of history.
As it was, I got off on the wrong stop, so we hastened into a little brasserie for a quick beer and a potty stop for Lynn. The little bar was warm and accommodating, decorated with vintage rock concert posters (Jim Morrison, the Doors, Steppenwolf and the Chambers Brothers July 5, 1968 in San Francisco for $4.00 a ticket) and license plates from states all over the U.S. We didn't see any from Louisiana before we walked out to find our way back home.
We stopped on rue Mouffetard to buy a rotisserie chicken as only the French know how to roast, but decided to go out again for dinner, as we had no vegetables to accompany the chicken. So we walked down the street less than a block to L'Angolo, a small, warm Italian restaurant that makes dining out in Paris or anywhere in Europe so special.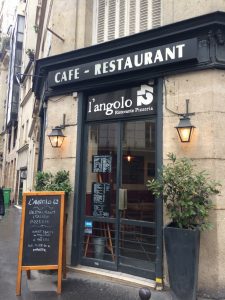 They offer an amazing number of different pizzas and pastas, at least 40 in all, with one meat special. I ordered the veal scallopini, and was very happy. Lynn ordered the pasta in gorgonzola sauce and was very happy. We shared the mussels in a broth with cooked tomatoes and were both very happy. But happiest of all was me when I saw the wine list. This Italian family offers great Italian wines for a song. I could not resist paying all of 27 euros for a Rosso Montalcino that would have cost more than twice as much at retail in the U.S.
C'est bon.