One of our friends who is knowledgeable about Paris recommended rue Cler to us as his favorite street in the city. Located between the Eiffel Tower and the Army Museum, rue Cler is a short street, most of which has been reserved as a pedestrian mall lined on both sides with retailers of clothing, groceries, fine pastries, seafood and the ever-present bistros. In essence, just like any other block in Paris, but without vehicular traffic.
I actually found exactly the wool sweater I had been looking for since we arrived and at a most reasonable price, the same as a lesser sweater was selling for at Monoprix, France's version of Target. Since winter will be settling in any day now, my new sweater will come in handy, likely as early as Thursday for New Year's Eve.
After walking r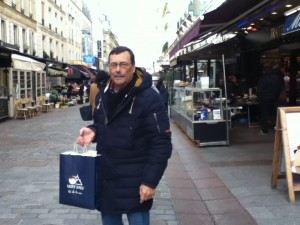 ue Cler, we crossed the bridge to the Rive Droit and stopped for a mid-day beer at Le Grand Corona on the corner fronting the bridge and the Seine. Grand Corona is grand all right–17 euros for two Kronenbergs. That's more than an entire meal in our neighborhood.
After downing our beers, we found Avenue Montaigne that runs from the river to bisect Champs Elysées.  Avenue Montaigne is the Fifth Avenue of Paris, lined with stores bearing all the biggest names in fashion from Armani to Vuitton. They all had black-suited security guards standing guard at the front door, likely to keep riff raff like us from entering. Champs Elysees was still packed with crowds milling back and forth among the Christmas village tents of cotton candy, mulled wine, roasted nuts, crepes and various souvenirs.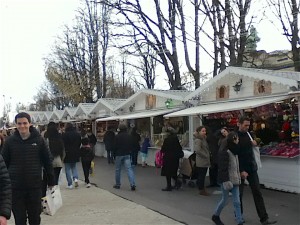 When we finally worked our way down to the Pont Alexander III, we walked past long lines of parents and children snaked around the blocks surrounding both the Grand Palace and the Petit Palace.  Both were presenting Christmas shows inside their respective buildings–at 20 eu for adults and 15 for kids.
Military and police were out in force by the dozens, all armed with automatic weapons. Clearly, recent events both here and elsewhere in Europe have everyone on high alert.