This is our second time living in Hemingway's old Paris neighborhood. Last year we lived closer to his old apartments and to Shakespeare & Co., the bookstore run by Sylvia Beach that plays a large role in A Moveable Feast. This year, our apartment is closer to Blvd. Montparnasse, where Hemingway and his buds hung out drinking and generally carousing.
Our plan for this bitterly cold Tuesday was to make a long circuit along Montparnasse to stop in four historic Hemingway-era bar/bistros, then along Luxembourg Gardens where Papa would take his young son to play, then back to our old 'hood near his original apartment. Our survival plan included stopping for coffee and a drink along the way to sustain ourselves through the sub-freezing temperatures.
The walk from our apartment to Port Royal, which becomes Montparnasse a few blocks later, is only a few minutes.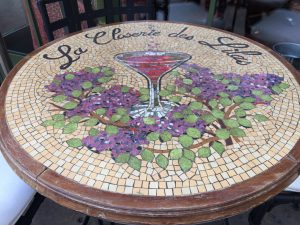 Closerie des Lilas is the first building at the start of Montparnasse, so that made an easy starting spot. In Hemingway's day, Closerie was a cheap bar where he could spend his afternoons drinking absinthe and jotting notes for his books. Today, it is a swanky, expensive restaurant, long removed from but profiting by its literary associations nearly 100 years ago.
We walked into the handsome, wood paneled bar without being greeted, and I found the little brass plaque at the corner engraved simply with E. Hemingway, spelled correctly, despite the note in John Baxter's Hemingway's Paris that it was spelled "Hemmingway." When no one came up to ask if we wanted to be served, we walked out, satisfied with our observations and warmed enough to proceed down the street.
A couple of blocks down is La Rotonde, another famous Montparnasse bistro that was a favorite of the expat crowd in the 1920s. There we sat down for a quick cafe Americain. Their version of cafe Americain is to give you a regular cafe in a large cup and hot water on the side.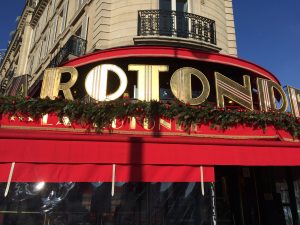 You get to dilute to your taste. Lynn received a small bit of chocolate to drop into her cafe, even though we ordered the same coffee. (Have I ever mentioned the French love their sweets? Sitting outside–outside!–was a very elderly lady dressed in matching electric blue hat and coat looking for all the world like a member of the Lost Generation drinking her own cup, spooning dollops of melted chocolate into her cafe.)
Rewarmed, we started off again for Le Select and La Coupole, which stand across the street from each other. We decided on Le Select in deference to the bar by the same name in St. Bart's, where we have had many a cheeseburger and beer in paradise. In the Paris Le Select, we chatted with our very friendly bartender who is a native of Sri Lanka and fled with his family to escape the civil war there several years ago.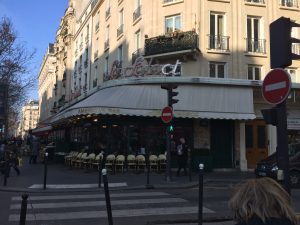 I ordered a pastis, the closest one gets to absinthe these days. Sure enough, it turns milky when you add water. The licorice flavor spreads warmth all down your center as you savor each little sip. Lynn opted for a glass of white wine.
Warmed and fueled again, we started back toward blvd. San Michel and the Luxembourg Gardens to find a U of Paris sweatshirt for our grandson Grayson, who will be starting college next fall. He has been accepted to Parsons School of Design, of which we are all proud, but the Paris campus is a bit far to find for authentic gear, even if they have such. Besides, he just returned from New York this past weekend, probably with his own Parsons sweatshirt.
The souvenir shop was located on rue Soufflot, the street leading up to the Pantheon and our old neighborhood. We walked over to rue Montaigne St. Genevieve and dropped into Le Petit Cafe for lunch of a hamburger (me) and open face ham & cheese (Lynn). Lynn's jambon et fromage was served spread all across the plate, well enough for both of us to eat. The cheese part was semi-melted brie, laid under slices of ham/bacon and all on top of sliced tomatoes and brown bread. This is what passes for a light lunch sandwich (dejeuner) in France.
By now, it was approaching mid-afternoon and just barely above freezing. We completed our circumnavigation along rue Descartes to rue Mouffetard near frozen but still moving steadfast. Lynn had her eyes set on having her nails done, so she stopped in at the nail salon on Mouffetard, noticing that it was the same brand as the one she had used the year before along the Luxembourg Gardens. I chose to use the time to go back to the apartment and take a quick late afternoon nap.
Lynn later calculated that we had marched more than three miles in our Hemingway walk. I acknowledged our feat by going back to the wine store and picking up a couple of bottles of Bordeaux, the criterion being that the bottle has either no back label at all or if there is one, it is only in French. That way we know this wine will never cross the shores of the U.S.