Our last dinner in Paris was pasta. L'Angolo is steps from our apartment, and we very much enjoyed it earlier in the week. It is a tiny Italian restaurant run by an Italian family. They require reservations, but neither answer the phone nor have an online service. Somehow, you just need to know. So at 6 p.m., an hour before they opened, Lynn marched down to the restaurant to reserve in person.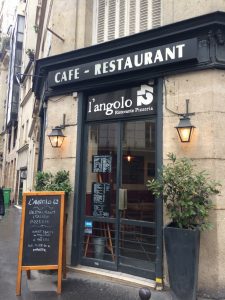 Except there still was no person in the restaurant. The well tattooed chef pulled up on his motorcycle, and somehow the two communicated that we wanted to eat there at 7:30, their early seating.
L'Angolo's menu is interesting. They offer some 20 kinds of pizza on one board, another 20 kinds of pasta on another board, and six different ways to prepare veal on yet a third board. And a fourth board lists the starters. Having seen their portions on our last visit, we knew better than to have starters, although their mussels are exquisite.
Within minutes after we sat down, the place filled to capacity and became quite lively with Italian spoken as much as French. We heard hardly any English except from our table and from the very helpful hostess, who spoke our language quite fluently.
Their wine list is also simple but spectacular. All Italian all-star wines at prices that are a bargain even by European standards. We slurped down a bottle of Monepulciano d'Abruzzo that was just delicious. My new criterion is to look on the back label. If there is no English or no back label at all, that means the wine will never make it to the shores of the U.S. to be marked up scandalously by our American neo-Puritanical system.
We had spent the day in the 8th Arrondisement at another house museum Lynn found, the Hotel de Camondo. Built in the first decade of the 20th century by a fabulously wealthy heir to a banking fortune, the house was furnished in late-18th century style right down to the wall paneling. Moise Comondo spent his life collecting and contemplating the 18th century.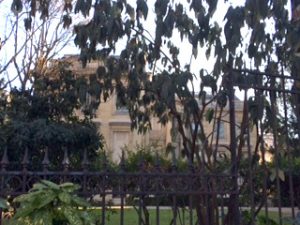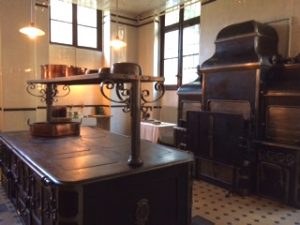 However, his life was marked by sorrow. His only son was killed in WWI, his wife ran off with an Italian count who worked with Comondo's horses, and after his death, his daughter and her two children were hauled off during WWII by the Nazis to Auschwitz where they died. Ironically, Comondo's widow, who survived the war by converting to Catholicism and posing as the Italian countess she actually was, later divorced her Italian count and inherited her first husband's fortune from her daughter. She outlived them all and spent her last years gambling away the family fortune in the south of France until she died in 1963. I conjured up the vision of an ancient, dissipated old woman living in Nice, spending her fortune down to the last sou until she was forced to live on the kindness of strangers.
Somehow that seemed a fitting end to a generally sad story of the rich and famous in pre-WWII France.
We washed down the sorrow with a glass of wine and lunch at a nearby place called Cafe Zinc. It is so named, because, well, all the fixtures are zinc. I had my first and last salad Nicoise in Paris, where they used canned tuna. (They use canned tuna in Nice too.) As I have mentioned before, the best salad Nicoise is served at Cafe Degas in New Orleans. Where we will be in just a bit more than a day and a half.