Another friend who has been to Paris before and is a fellow foodie recommended we try Le Petite Perigourdine, which happens to be located only two blocks from our apartment on the corner of rue des Ecoles and rue Vallette. We have walked by the place dozens of times.
We were seated at a window table on the Vallette side where a row of empty wine bottles was visible from the street. I had wondered about these as we passed by so many times, and now I understood–they were all empty bottles of Chateau Mouton-Rothschild of different vintages.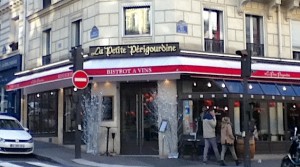 Sitting next to us were two young women engaged in a pleasantly animated conversation that did not stop the entire time we were there. They went through a full bottle of wine, then added a pichet for good measure. As far as I could tell, their dinner consisted of one shared plate of prosciutto.
We split an appetizer of the terrine, which the waiter brought out in an entire foot-long dish right out of the kitchen. He offered the entire thing to us, and when Lynn laughed and demurred, he proceeded to slice off about a two-inch section for her. Then another two-inch slice for me. One would have been more than we could eat. Two would have been an entire meal.
The signature dish here is their creamed potatoes, which come out to the table in a copper pot, then ladled out to the plate from far above. The potatoes are so thick, they must be eaten like pasta, twirling a fork around to create a serving. It makes a nice show, but unfortunately, the taste did not live up to the presentation.
The rest of the meal certainly had plenty of flavor, however, putting this little restaurant a good cut above the average.
Lynn ordered the veal hangar steak, which was served in a roasted half eggplant, the entire dish swimming in a foie gras sauce. Every element worked together to perfection.
My steak was equally delicious, nicely charred on the outside and perfectly medium rare on the inside.
A most embarrassing moment came when the waiter politely showed us that we were using our steak knives on the wrong side. All we could do was laugh and blush. The shape of the blades really does look backwards. We felt like stupid Americans, which we are.