For the third time in 19 months, we bid Paris au revoir. This time is a bit more melancholy than before, because the next stop is home, not another European city. But after a week of sub-freezing weather, we are ready to head back to the warmer, moister climate we call home.
But first, we took a last walk around the old familiar neighborhoods in the Latin Quarter.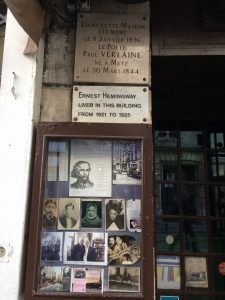 Since our flight did not leave until the evening, we had plenty of time to take a nostalgic tour down to the old 'hood, stop to take in Hemingway's apartment on rue Descartes, then pop in for lunch at one of our old favorites before heading back through delightful rue Mouffetard and its markets.
Le Petit Perigourdine was barely occupied when we walked in, so we had our choice of tables. We took the third one offered after Lynn deemed the first too close to the door, and the second was squeezed between two occupied tables in the rear. Finally settled in our selected space, we ordered full plats for lunch, since we figured we would not eat another real meal for several hours again.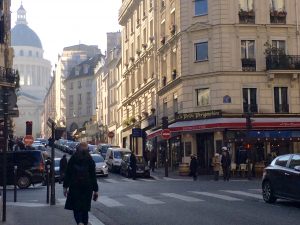 Lynn went for the lamb shank, and I ordered the rabbit in a spicy mustard sauce. Both were mouth-watering delicious, giving us second thoughts about leaving Paris after all.
On our way out, we stopped at a large table of American women from Colorado who had wandered into the bistro by sheer happenstance. We recommended they have one order of the creamed potatoes, just to see the show if for no other reason. We had learned in our last visit that the waiters bring out the potatoes in a copper pot and make an impressive display of pouring out the creamy pommes from on high into the diners' plates.
After our brisk walk back one last time through the rue Mouffetard markets and a wave at our friendly wine seller, we packed up and summoned Uber for the long ride to Charles de Gaulle Airport and our flight to New York, which would not arrive until about 5 a.m. on our body clocks.
Our Uber driver actually arrived earlier than scheduled and was forced to park a block up, because the police in the tiny guard shack staffed 24/7 across the street from us would not allow him to park in front of our apartment.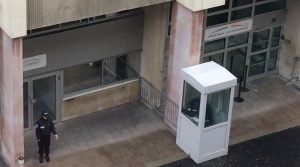 I was still lugging the bags (one of which contained four bottles of Bordeaux) down the four flights of stairs, and Lynn realized she had forgotten to toss out the remains of the refrigerator. Some pieces of really good, really stinky cheese were tossed into the garbage at the last minute.
Charles de Gaulle is Paris's main airport, and the French take no chances these days with security. Soldiers in camo carrying automatics at the ready routinely patrol in groups of three. Our Uber driver dropped us off at the ground-level entrance to Terminal 1, where passengers walk in and line up to check bags before they ever are allowed into the main part of the airport.
From bag drop, we took the escalator upstairs and found the Priority Lounge, which, like all lounges in CDG, is situated before you even enter security. As we walked through the door and checked in, what did I see on the TV monitor but live coverage of the record-breaking finish of the Vendée Globe sailboat race solo around the world.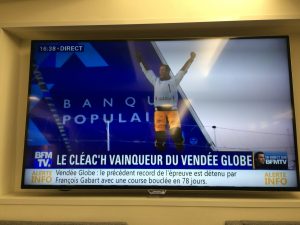 In France, long-distance sailing is considered a major sport, worthy of live TV coverage and taped reports on French TV news. Winning skipper Armel Le Cléac'h has ascended the level of major rock star in France, especially having broken the race record by no fewer than four days. And at the same time, another French sailboat is on its way to winning the Jules Verne Trophy for fastest time around the world.
We enjoyed some afternoon snacks, a couple of glasses of wine and a cocktail in the lounge before plunging into the security lines downstairs. French airport security, like most other European airports we have seen, is thorough, efficient and actually helpful. You keep your shoes on, but always take out your iPad. For some reason, European airport security is more interested in tablets than laptops.
At CDG, our gate for Norwegian Air was literally at the end of the security line. The seating area was tiny, especially for a huge plane like the 787 we were scheduled to board. Since we were seated in row 7, just behind First Class, we were among the last to board. Norwegian's version of the new 787 Dreamliner features nine seats across each row, and this flight was completely full, so Lynn was squeezed into the middle seat between me and a rather large, heavily perfumed lady on the aisle. Luckily the 787 flies at 40,000 feet booking nearly 600 miles an hour, so the entire flight from Paris to New York took a remarkably short 6 and a half hours.
I watched the interactive map in the seat back in front of me for half the time and read some of Dos Passos's early post-WWI novellas the rest of the flight. Dos Passos was part of Hemingway's Lost Generation circle in Paris of the 1920s, so reading him on the way out seemed fitting. Au revoir, Paris, until next time. A night at a JFK airport hotel and the presidential inauguration await us tomorrow before we reach home.