After four glorious days in Newport watching Southern Yacht Club decisively win the NYYC Invitational Cup on our first try, I spent two gut-wrenching, stomach-turning days fretting about Jose just off the coast of New York.
I would tell the tales of the fraternity house in Newport, but what goes on in Newport, stays in Newport. Suffice it to say that SYC won with the highest differential, the lowest average finish score and the only team to fly the Golden Spinnaker every day possible. This was at least as good as the Saints winning the Super Bowl. The big difference was that Lynn and I were part of the owning syndicate.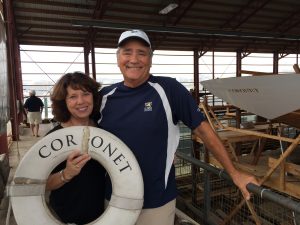 The only downside was the nearing presence of Hurricane/Tropical Storm Jose, churning around just off the coast of North Carolina, but inexorably crawling up to Long Island and New England. Our friends and fellow IC visitors in Newport, Glenn and Tracey Knoepfler, planned to drive up to Martha's Vineyard after delivering us to the Providence train station for our very pleasant three-hour trip along the coast to Penn Station and NYC. Glenn and Tracey will feel Jose's effects more than we will. But that will just add to their adventure.
Regardless, I tossed and turned for two nights until we arrived at JFK to confirm that our flight to Nice was departing on time. First was the fear that the flight would be canceled, leaving us with no place to stay in New York and an unused night in our apartment in Nice. After a couple of aborted phone calls with Delta, I was assured–if not completely convinced–that the flight was scheduled to leave on time and would not be canceled.
But on Tuesday, I checked the flight status and learned that the originating flight from San Francisco was five hours late arriving in New York. After an Uber trip of an hour and a half to JFK, we checked in to learn to our relief that our flight would board and leave on time, notwithstanding the five-hour delay from San Francisco. Evidently, any West-Coast passengers heading to Nice will arrive a day late. But not us.
The night before, we had taken our grandson Grayson to dine at one of our favorite New York restaurants, db Bistro Moderne, one of celebrity chef Daniel Boloud's more casual locations in the heart of Manhattan. It is literally next door to the Algonquin Hotel, where we stopped in for a pre-dinner cocktail and a chat with the ghosts of the Round Table just a few doors down from New York Yacht Club.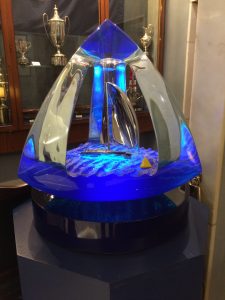 (Side story here–I could not resist walking into NYYC and asking if their Invitational Cup trophy had been returned to the Manhattan clubhouse. It had not, depriving me of the sinful, hubristic pleasure of taking a photo of me with the permanent trophy, as I had done with the keeper trophy in Royal Thames earlier this year. It's ours now. And our great friends at the Thames couldn't be happier unless they had defended.)
Grayson seems to be doing just fine in his first year at Parsons. He is quite the sophisticate, ordering an Old Fashioned before dinner. I asked him where he developed a taste  for such things, and he answered simply, "Galatoire's."
Dinner at db Moderne was its usual greatness. We started it all off with an order of roast peppers, generally called padron peppers in Spain. Lynn enjoyed her scallops (well done) with roasted cauliflower. Grayson and I couldn't resist the duck tortolloni.  Our entrees took a long time to come out, and the waiter explained that one of the dishes had to go back to be prepared again. Better late than bad, and he compensated with a tasty flatbread to tide us over. Our wine selection was a Magellan Langeudoc, one of the best values on the list at $49.
We bade our goodbyes to Grayson so he could take the subway back downtown to his dorm and repaired ourselves to the Hotel St. James on 45th St. between 6th and 7th avenues. To be polite, the St. James is not the Algonquin. But it is cheap by New York standards and offered me a room for $229 in the thick of Fashion Week and the U.N. General Assembly.
Because of this, the traffic in New York is choked, even by Manhattan standards. The "don't block the box" rule has been suspended, as has the prohibition of horns. Diplomat and police cars are everywhere, as mighty potentates from impotent, itty-bitty countries clog surface arteries at every intersection. This is their New York vacation, paid for by their abject subjects. The Uber ride to JFK took an hour and half.
So here we sit in Delta's Sky Lounge, sipping wine and eating snacks (lunch), waiting for our flight to leave for Nice at 8:30 p.m. The Sky Lounge is packed. Many flights to Europe leave in the evening. We are esconced at a table near the bar. Life is good. Nice awaits, less than 12 hours ahead.