No, not that one. Antoine's  Restaurant is in New Orleans. Bistro Antoine is one of the three Crespo restaurants in Old Town Nice, each one of them great in its own unique personality.
Antoine is the least cordial of the three, most formal in atmosphere and attitude. But it is closest to our apartment, just a block away and right down the street from our wine store. So it's the logical choice for our first dinner out. We walked over from provi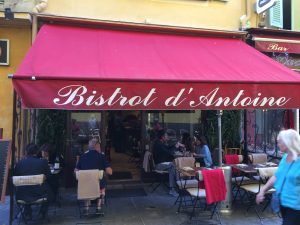 sioning grape to make a reservation for the evening, which is absolutely necessary unless you are French and even many who are.  Recognizing us as Americans, first the waiter said yes, but Mrs. Crespo (we think) said no, then she relented and gave us a table for two outside at 7 p.m. We were grateful for the early hour, since we were jet-lagged.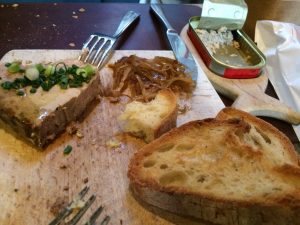 Antoine's signature amuse bouche is a smoked fish dip served in an old sardine can with the top partially peeled back. Accompanied by a glass of olives, the spread was delicious. We followed up with an order of terrine lepin (rabbit), which was big enough to eat our fill and still take some home for a snack the next day.
Since we were sitting outside, we were treated to the show of people strolling along the street, stopping at the Antoine awning, staring at the menu board, gazing quizzically inside and finally screwing up the courage to ask for a seating. Inevitably, English-speaking people, especially Americans, are politely but firmly told "non." A few favored French-speaking walk-ups are offered a table in the garret upstairs at 8:45, the normal early dining hour for Europeans. The rest of the supplicants are sent off to search for food elsewhere. This restaurant (as are the other two Crespo establishments) is small, packed and really doesn't care if you eat there or not.
They profile like no one's business. In the U.S., they would be sued the first night of operation. We felt fortunate to be honored with a seating.
For the record, the food is excellent and a great value. After our paté, Lynn enjoyed an order of duck breast, and I gobbled up the flank steak served in medallions, all washed down with a delightful bottle of Lyonnaise wine. All for 67 euros, or about $80 total. The wine was the most expensive item on our check at 27 euros. I could so live here.