Saturday started rainy, but that didn't stop us or even slow us down. We toted up quite the list of accomplishments (for us, anyway):
Visit to Marc Chagall Museum
Drinks at the fabled Hotel Negresco
Dinner at Les Garcons
Before the rain slacked off, I ran around the corner to our excellent patisserie, where they bake their own breads, for one of their fresh, buttery croissants and a pain au chocolat, one of Western civilization's more decadent breakfast treats.
Once the rain moved off to the Mediterranean, we ventured off to find the 15 bus to take us up Cimiez to the Marc Chagall Museum, which had been closed for renovations when we were last here in Nice.
Finding the 15 bus stop proved to be something of a challenge. The nearest stops for 15 are all in the main downtown part of Nice across from the park and promenade from Old Town where we are living. The bus map is not terribly clear.  First we walked too far down the promenade before turning into downtown, so we had to walk back several blocks. As we finally walked up to the bus shelter, the 15 pulled up but barely slowed down, much less stopped to pick us up, despite Lynn's attempts to wave it down. So we had to wait another ten minutes for the next bus on the Saturday schedule.
The next bus took us up a scenic drive to the hills of Cimiez for less than ten minutes to the Marc Chagall Museum. This is an unusual attraction, as Chagall designed the building during his life to showcase a series of large paintings he created about major elements of the Old Testament. The master personally supervised the construction of the place, including a large mosaic  on an outside wall overlooking a reflecting pond.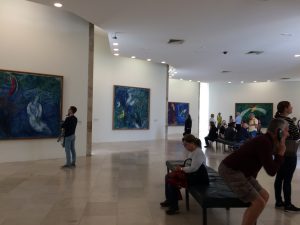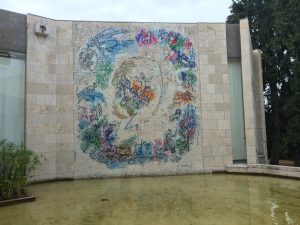 Because the scope is limited to the paintings Chagall created specifically for the space, the museum is relatively compact and easy to get through in about 90 minutes. The audio guide that is provided free with your entry ticket explains the meaning and background of each of the major paintings in some detail. At only 10 euros per person, the Chagall Museum is well worth a visit, especially if you find yourself on the way to or from the larger Matisse Museum farther up Cimiez.
After lunching in the snack bar of the museum on a sandwich so big we easily split it and a couple of beers, we waited for the 15 bus to take us down, having just missed another by no more than 30 seconds. This time, we planned to disembark at a different stop that would leave us closer to our apartment. Instead, we got off one stop too early and found ourselves walking through another section of downtown before entering the comfortable confines of Old Town. Some discussion arose between the two of us about who called which stop.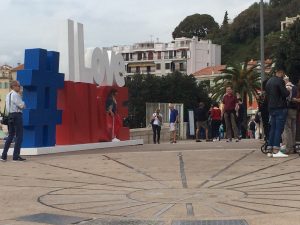 Before returning to the apartment, we took our daily walk along the promenade up toward Castle Hill to see Nice's hash tag sculpture and watch a fleet of antique wooden boats finish their weekend races.

Our dinner reservations at Les Garcons were set for 7 p.m., so we planned to walk down the Promenade de Anglais to Le Negresco about 5 p.m., have a drink in the fabled bar, then head back to Old Town with plenty of time to make our reservations. That plan worked just about to the minute, because the walk to Negresco and back was a little longer than we had planned, even though we have made that walk many times before.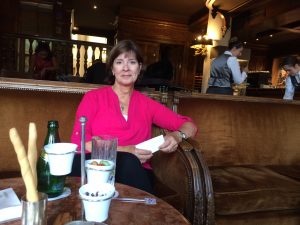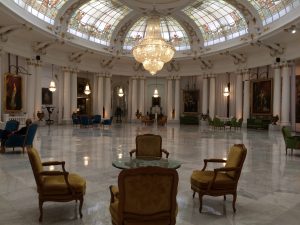 The Negresco bar features rich, dark wooden paneling, soaring cove ceilings, huge paintings and large windows overlooking the Promenade des Anglais. The hotel no longer allows people to walk in off the street and tour their art collection, which is, to be polite, an ecletic amalgam of contemporary pieces and second-tier  portraits of 18th century French nobility. Still, the Negresco is a landmark along the Promenade in Nice, more notable for its past than its present.
Drinks at the Negresco bar are ridiculously expensive: Lynn's vodka and soda was 26 euros and my Scotch and water was 15. That's $31 and $18 U.S. Compare that to:
Cocktails at the Algonquin Hotel in New York–$18
Bellini at Harry's Bar in Venice–18 euros
Bloody Mary at the Ritz in Paris–24 euros (but that comes with a show of making the drink)
What makes the prices at the Negresco bar so stunningly extravagant is that you can get a room in the hotel for about 200 euros or less in January and about 250 or less right now, still at the end of high season. The 41 euro bill for two drinks was nearly what we would spend on a delightful, delicious dinner at Les Garcons the next hour.
At Les Garcons, I reveled in what the menu termed a veal medallion, aka a veal filet mignon, without question one of the finest veal dishes I have ever tasted. The waiter was a bit pushy in recommending a wine selection, but they had a Morgon on the list, and I was not to be denied. And be careful about ordering water–they charge for still water, the only restaurant we have seen in France that does so. Usually when you choose still water, you get tap, which is very good in France, so good that in Paris they label it.  At  Les Garcons, you have to ask. Still (no pun intended), Les Garcons is one of the very best restaurants in Old Town Nice.