Marseilles is the second largest city in France, reportedly the oldest (although Paris was a thriving community in Roman times), and the largest French port on the Mediterranean. It is grittier, more culturally diverse and of course much larger than Nice. And it's a two and a half hour train ride along the Cote D'Azur from Nice.
We had intended to go to Marseilles last year, but never got around to leaving Nice, where you can wander all over the area for a euro on the city bus. This time, we were determined, so I had booked train passage and a hotel before we ever left the U.S.
We simply following the normal weekday morning rush of workers in the two-block walk from the tram to the station. Alongside is under heavy construction to create a covered walkway for passengers to transit from the tram to the station, a welcome amenity in the case of inclement weather.
Nice's train station is so typically French and so typically 19th century. There is something about train stations that I love as much as there is something about airports that I despise. Train stations are immediate; people rush to catch their train at the last minute. Airports are forever; passengers are herded through security well in advance of their flights and wait like cattle for their plane to arrive, load and leave. Embarkation that takes hours in an airport takes minutes in a train station.
Train stations are also centrally located. Even so, the cab ride in Marseilles after an aborted Uber attempt cost 15 euros to get to our hotel which was located on the main street leading to the Old Port a block off the waterfront. By contrast, once we knew, we took the Metro back to the train station for 3.30 euros, including a ten-centime charge for a new card when I could not find our old transit cards.
Our Hotel Escale Oceana was a three-star lodging. In France, the difference between a three-star and a four-star hotel is the amenities. In a three-star, you get plastic cups in your room. In a four-star, you get glassware for your wine, porcelain cups for your coffee. That's about the extent of the difference. And breakfast will be better, bigger and much more expensive at a four-star hotel.
Our bed was most comfortable, and our room overlooked the busy Blvd. Canebriere with a straight view right down to the Municipal Opera house.  We were exactly one block from the Old Port, giving us ample access to the boats, the tours and the restaurants.
Putting our knowledge of tourist traps to good use, we eschewed the restaurants facing out to the Vieux Port and bought beer at a little bar one block behind. Our beers were cheaper, colder and came with Marseillais commentary from our bartender/proprietor, a funny French Archie Bunker if there ever was one.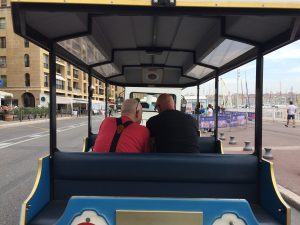 Marseilles fancies itself the tourist destination, but it has some ways to go before it reaches the level of sophistication as, say Nice, Paris or New Orleans. The little tourist train did not accept credit cards. And our route—unannounced—stopped and put us off for 40 minutes at the old Charity Hospital, which is now a museum.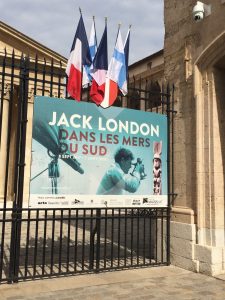 The exhibit was on Jack London, and I would have visited, except that Lynn heard our stop would be 14 minutes, and I heard forty minutes. I know the difference between quatorze and quarante, and the driver clearly said quarante, which is 40. So we cooled our heels in the little courtyard looking at the spa that uses little fish to nibble on feet and staring at the the graffiti, which here is on a monumental scale.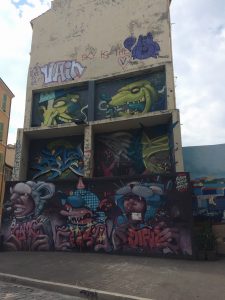 The train ride finally returned to Vieux Port, so we eagerly jumped on the next item on our customary list of things to do on the first visit—take a boat ride. We signed up for the late cruise to Chateau D'If out past the harbor. Although it was clearly cocktail hour, the ticket seller told me that no alcohol is sold on the boat at all—it is forbidden. (I know that to be utter BS—we have been on more than one tourist cruise in France where the bar opens as soon as the passengers board.
The cruise out to Chateau D'If is fine, but the commentary was only in French, leaving us to guess at the narrative. It was a nice boat ride, but we didn't learn much.
Our friends at Chat Noir had recommended we try Toinou, a seafood restaurant that happily was located only two blocks from our hotel, because we were starving by dinner.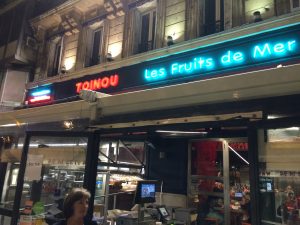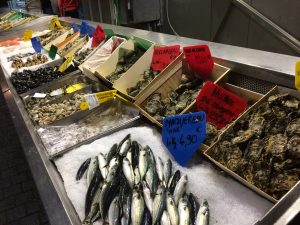 Toinou is more than a seafood restaurant—it is a seafood experience. Part open air market, part cafeteria, part restaurant but all seafood and gargantuan amounts and variety of it. For instance, they offer at least eight different types of oysters and each type can be ordered in petit, medium, grand or super-grand. They offer at east three different types of mussels too, and even display Alaskan king crabs and Maine lobsters. Those last two are not cheap. Nor is the shrimp, which always gives us so much pleasure and amazement , considering what we pay at home.
We walked our trays down the line like a Piccadilly of the sea. I immediately and eagerly requested an order of fried Mediterranean anchovies, plus a dozen petit oysters from the Etang du Thon, just southwest of Marseilles and at the end of the Canal du Midi, where we have cruised before.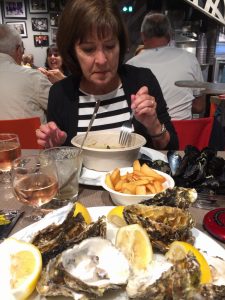 Lynn opted for the crab soup, an order of mussels and, of course, frites. We had to overcome a bit of language barrier, as the attendant explained that frites did not come with mussels, but must be ordered separately. We knew that. We were not in Belgium.
All in all, Toinou was a treat and if you ever find yourself in Marseilles, not to be missed.
Up the next day early, our plan was to visit the huge Cathedral de la Major the fort St. Jean, then take the 60 bus from there to the Basilica of Notre Dame de la Garde, which overlooks Marseilles city and port from a tall hill that was built by King Francis I to protect the city from invasion and actually served as a military garrison until well into the 20th century.
Well, one of three isn't too bad. Fort St. Jean and the cathedral were closed on a Tuesday so we went up the mountain on the 60 city bus to Notre Dame de la Garde. But first we stopped for lunch a block off the Vieux Port walkway in a tiny café, where Lynn ordered the richest Quiche Lorraine she had ever tasted, and I plunged into the daily special, which was beef daube over pasta. Neither of us could finish either order. With two beers, the total tab was 18 euros.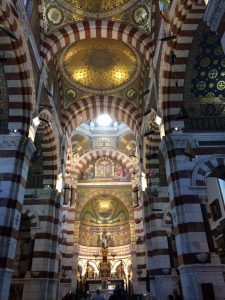 Notre Dame de la Garde is worth the trip. Even though the church itself is only about 150 years old, it stands on the site of a ninth century chapel that Francis I deemed insignificant for a location so critical to his empire. A golden statue of the Virgin Mary literally crowns the church overlooking the harbor. Inside, the Romanesque-Byzantine architecture features domes of golden mosaics that could rival San Marcos in Venice.
Even more interesting are the boat models that hang from the ceilings along the length of the nave and the many maritime paintings that are massed along the walls of the side chapels.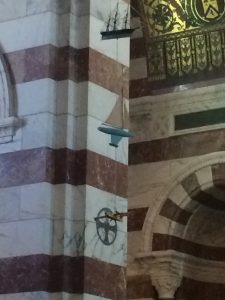 Notre Dame de la Garde was the marker for incoming sailors, and they paid their respects at the side chapels of the church.
The 60 bus ride back to Vieux Port takes a slightly different route through town, since many streets are narrow and one way. Lynn's fear height gauge told her that the ride down was more precipitous than the ride up, as the bus careened around corners of streets designed for horses.
We checked out of the hotel and walked across the street to the Metro, which took us all of five minutes and 3.30 euros to get to the train station. The two and a half hour train trip back to Nice was as quiet and pleasant as the one over, and we enjoyed the last of our bottle of wine craftily "snuck" aboard with the entire neck of the bottle protruding from the top of Lynn's mom bag.
Back at our apartment for dinner we sought out La Plassa restaurant that we had enjoyed a couple of times before. It did not disappoint, as Lynn ordered the beef flank steak with gorgonzola sauce with vegetables, potatoes and salad for 15.50, and I had the spaghetti vongole for 14.50. With a pichet of wine (which is all we needed but oddly all they offered), the total bill for dinner was 38.50 euros. Homecoming was delicious.