St. Paul de Vence is a medieval village an hour up the mountains from Nice. We had visited there last time we were here, but it had been winter, and the town was pretty much closed up. So we decided to invest a couple of euros for another trip up the mountain.
The 94 bus runs from the edge of Vieux Nice along the Promenade, then up the mountain through Cagnes sur Mer and finally to Vence, a trip of more than an hour. Foolishly, I had forgotten to check the departure times, and we arrived at the 94 bus stop ten minutes late, having spent those ten minutes in the local La Poste sending a postcard back to the U.S. The 94 bus has the second-longest intervals of all Nice transit, a whopping 45 minutes. So we waited in the park, watching the tourists and Nicoise walk by.
The trip up the hills is bumpy on the city bus but runs through the heart of Cagnes sur Mer, one of the many small towns along the Cote d'Azur. It's always interesting to see the residents in their native habitats, not just along the beaches and in the bars and restaurants. The streets of Cagnes sur Mer are lined with car repair shops, clothing stores, cleaners, hair salons, small grocers (epiceries) and all the retail establishments that keep a town running.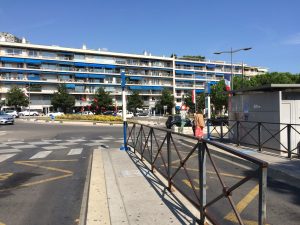 The 94 route ends at a multi-line bus terminal, where passengers are let off to wander into the town of Vence. No sign of the medieval village we had visited the year before.
We walked down the street, hungry since it was mid-day by now, and found a square full of restaurants. We chose a simple looking one that offered–what else?–pizza! The smiling hostess welcomed us to our table and offered the menu, but she was followed by what appeared to be the owner, who was none too pleased to get an order of only one pizza and two beers. And one tap water, for which he could not charge. It may have been a language problem, but he basically set our table for one.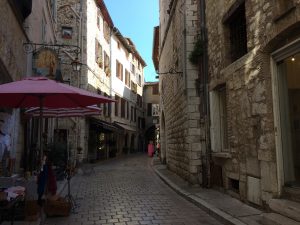 Pizza and beer consumed, we went looking for the medieval village that is supposed to be there. Finally, we turned down a narrow alleyway, and thought we recognized some features of what we had seen a year and a half ago. It was somewhat like the St. Paul de Vence we had visited, but somehow different, less interesting, less quaint and more commercial.
So after a short excursion into the old city,  we walked back to the bus terminal to catch the 94 back to Nice. Another nice ride down the hill to the sea.
When we returned to the apartment, Lynn did a bit more research–after the fact–and learned to our surprise that we had taken the wrong bus. The 400 bus goes to St. Paul de Vence, not the 94, as the map said. Oh well, we didn't see what we had before but saw something we had not. I swear the regular city bus took us to St. Paul de Vence 18 months ago. But not today.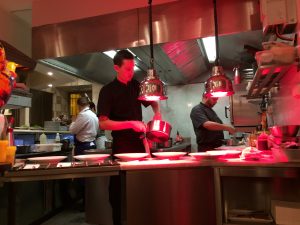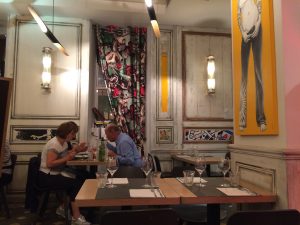 So we washed down our regrets with some beverages from our favorite Cave, then walked to dinner at Bar des Oiseaux, our favorite among Armand Crespo's restaurants. They gave us the same table we had enjoyed last time in Nice, a two-top right looking right into the open kitchen. Watching four guys cook and prep meals in a tiny space is a show in itself.
And the food was every bit as wonderful as we had remembered. We started by sharing a veloute of artichoke with truffle oil that was nothing less than sensual in texture and taste. We ordered it to share, and they brought it out in two bowls (no extra charge for splitting an order here), accompanied by toast points slathered with pate. Adults only here.
Lynn ordered the pork confit that fell apart into shreds of deliciousness, and I had what amounted to a seafood medley over little pasta shells. The featured item in my seafood was a large slice of perfectly grilled monkfish that complemented the flavors of octopus, clams, other little undefinable but savory seafood bits. We ate our dishes down to the last pasta shell and pork shred. No take home here tonight. As we left, the chef leaned over the counter to shake my hand in recognition of our appreciation of the show. We felt like regulars. Which could happen.
As a footnote, we learned that Armand Crespo is opening a wine and cocktail bar (a true rarity in France) just doors down rue Barillerie from our apartment. We're already making cocktail plans for our next visit to Nice.