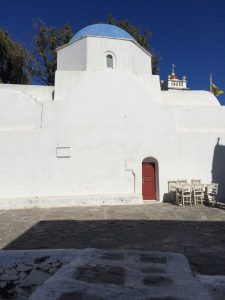 Mykonos truly is as stunningly beautiful as the photos depict, a panorama of whitewashed walls and blue trim buildings perched along the arid rocky mountain overlooking the Mediterranean. Beneath the surface, Mykonos is one huge retail mall of tourist trinkets, clothes, food and drink.
We pulled up to the Mykonos cruise ship dock right on time in a honking 25+ knot breeze that would not lay down all day. Rather than take the free Cunard provided shuttle bus, we jumped on the two-euro harbor ferry that was promised to leave in 2-3 minutes. Some 20 to 30 minutes later we left, but only after loading up a truly scary number of passengers. I took a seat in the open bow, while Lynn stayed in the cabin, which filled to SRO. When the boat turned in the bay, it listed to one side but did not right; I was ready to hop over the large round fender in the bow and grab Lynn out of the cabin just in case we capsized.
Thankfully, I had the foresight to buy only one-way tick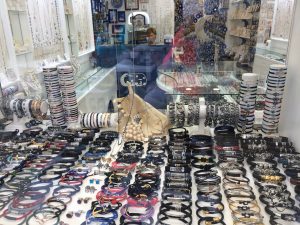 ets, because there was no way we would ever return to the ship on that ferry.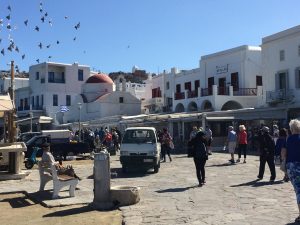 We walked through the town and explored the Little Venice neighborhood of narrow winding streets (doesn't that describe most of Europe?), all lined with retail shops displaying the customary wares. After poking our heads into a tiny church and taking a few photos of more white walls and blue (occasionally red) doors, shutters and domes, we felt satisfied we had seen enough of Mykonos. So we did what we do best—hunt for a small place off the main drag for a beer. That's not so easy in tiny Mykonos, choked with tourists from our ship as well as several day ferries.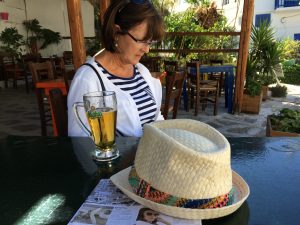 But at last we found Maria's Cafe and enjoyed some really cold, super cold Mythos beers under an unusual tree that was throwing off dozens of huge clumps of berries but for all the world appeared to be dead in its trunk. The proprietor said it was called an Easter Tree and indeed it was dead, he said. From our perspective, it looked very much alive, although the trunk may well be dying.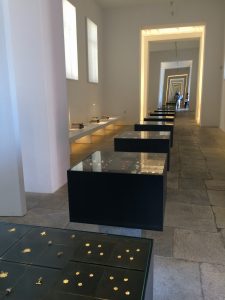 That bit of botanical interest behind us, we walked the length of the beach toward the shuttle buses but first stopped at the Mykonos Archeological Museum. This is a tiny gem of a museum of antiquity. The front room features creative displays of ancient jewelry dating back more than 5,000 years, all contained in several cases that are lined up in the front room with mirrors on either end, creating an impression of infinity.
Several larger pieces of architectural relics from ancient Greek ruins collected around the island are on display in a partially open space behind the main building. All this surrounds a central room of contemporary jewelry designs inspired by the ancient motifs. The combination of really old and really new is quite impressive for such a small museum.
Once we toured the museum, we figured we had seen enough of Mykonos and had no desire to hike all the way back to the commercial center in the howling wind to seek a restaurant for lunch. So we made the short walk back to the shuttle buses for a ride back to the ship and a late last free lunch aboard the Victoria.
Actually, we have found the food in these islands to be good, simple and generally inexpensive but pretty much all the same, whether Crete or Rhodes or Mykonos. They are all Greek. So we chose to dine back aboard for the last time in the Lido buffet.
Our time on the Queen Victoria was coming to a close. We had just one more evening of views from our balcony as we watched our ship slowly move away from the dock and out to sea. We have watched this sight for 14 days and it never gets routine.
So cocktails on the balcony for our last evening aboard, followed by our last dinner in the Britannia, no great loss there. Tomorrow we disembark early in Athens and sleep on land for the first time in two weeks.