Lynn found another palace to visit and explore, this one in St. Jean Cap Ferrat, a peninsula about half way between Nice and Monaco, and another scenic bus ride along the same seaside highway. We learned we have been overpaying for the bus, when we purchased a ten-trip ticket ten euros, or a buck a ride. We had been paying 1.50.
The Villa Ephrussi de Rothschild, built only a little more than 100 years ago, represents the most extravagant, opulent excesses of the Belle Epoch era, even by Nice and Monaco standards. It makes the Newport cottages in the U.S. look like, well, cottages.
Beatrice Rothschild was the heir to the two richest strains of the Rothschild family. The English and French houses of the family combined their wealth in her, and she in turn married Mr. Ephrussi, 15 years older than she and an inveterate gambler. Beatrice herself, no doting wife pining at home for a dissolute husband, was known to frequent the casinos on the Cote D'Azur and the race tracks around Europe in her own right.
The unhappy couple split before Ephrussi could squander any more than his own fortune. Beatrice then proceeded to build her own personal palace overlooking the Mediterranean and her neighbors' palatial homes at St. Jean Cap Ferrat.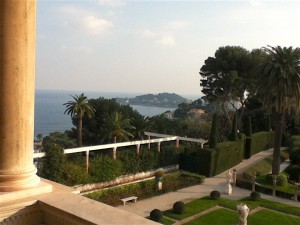 Everything about the house is as over the top as its owner. After the death of her husband when Beatrice was 51, she continued and in fact expanded her life of luxury, excess and eccentricity. For instance, she staged a full-dress formal wedding for two of her dogs. Hundreds of friends showed up in formalwear to witness the pooches walk down the aisle. Beatrice even had Louis XV chairs made up in dog-size, so the little canines could have proper seats at the table.
Her collections of Venetian art, Louis XV and XVI furnishings, Renaissance tapestries, 18th century porcelain, exotic Japanese silk garments and antiquities looted from medieval churches are all on display on the two floors of the ornate, Venetian style building. The tout ensemble is sensory overload.
The house is also surrounded by 4.5 acres of carefully tended, lush gardens that are separated by theme–Rose, Japanese exotic, stone, Florentine, French, Spanish and one specific to Sevres, where much of her art and decorative collections originated. The centerpiece of the garden complex is a large fountain showing off a dancing, animated spray of water jets.
When Beatrice died in the 1930s, she bequeathed her estate to the French government to maintain its breathtaking opulence for the public to admire.
This is the stuff of which revolutions are made.