We were unhurried but on a mission Sunday to start the day with a proper brunch and Bloody Marys at Wayne's. My huge three-egg omelet was all of 6.50, and Lynn shot the bank account for poached eggs at 7.50. Both were excellent, although Lynn found her poached eggs more done than she prefers. The Bloody Marys were so good, I needed to test a second to confirm Wayne's consistency. Actually, the second turned out to be even better than the first.
By early afternoon, we were properly fed and napped, so we looked around for a quick excursion and decided to catch the bus to St. Jean-Cap-Ferrat again to walk the waterside. It was worth the euro.
Had we known, we would have gone down to Cap Ferrat first when we visited the Rothschild mansion and had lunch, as our Canadian companions had. St. Jean-Cap-Ferrat is exquisite.
The St. Jean Cap-Ferrat harbor resembles the French Caribbean more than we have seen here in France. The waterfront promenade is lined with restaurants and shops. You can even walk on the piers where the boats are moored, mostly stern-to and all Med-moor style with one end secured to the pier and the other to a mooring or anchor in the water. For the most part, the boats are human-sized, although several 60-110 footers live on the outside bulkhead.
The harbor's Nativity creche is displayed on a barge chained to the harbor wall. Like many other locations in France, the Christmas decorations stay on display throughout the month of January and the celebration of St. Sylvestre. But this one is the first we have seen on the water with a maritime flavor.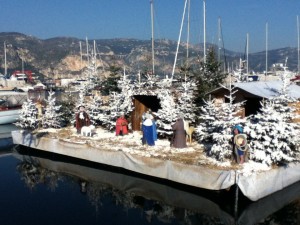 Counting two trips on the Hop On Hop Off tourist bus, we have now made this route five times round trip, and it's no less spectacular the tenth time as it was the first.
Next excursion will be Cannes, which takes nearly two hours by Lignes d'Azur bus. But still one euro.