Monday is wash day. There goes a beautiful morning. The forecast had been for clouds. But domestic chores must be done, and that includes a run to the larger Casino grocery store for ingredients to tonight's dinner at home–our third in a row.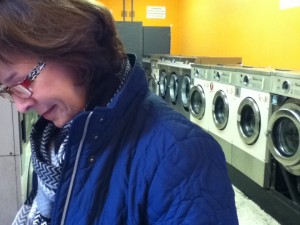 Normally, we would have gone to the Cours Saleya market for vegetables and cheeses, but on Mondays the market changes from food and flowers to hard goods of all kinds. Books, vinyl records, masses of silverware and china, oriental carpets, art (well, framed things to hang on a wall), furniture, chinoisorie and even furs are hawked in hundreds of stalls that fill Cours Saleya and the adjacent square in front of Mary Misericordium church.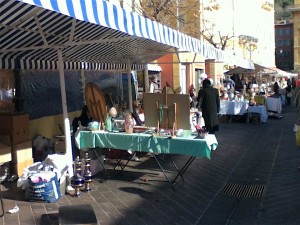 But the day was beautiful, with clear skies and temperatures just below 60 F, so we couldn't resist enjoying the neighborhood scenery the rest of the day. We lunched al fresco at a little place along the seashore that features mediocre food, terrible service from cute young waitresses but a wonderful view of the Mediterranean. All the rest of the little restaurants along that part of the Promenade de Etats Unis are pretty much the same, and we refuse to eat in any place that displays photos of their dishes on a board in front of the entrance.
We walked off lunch by basically circumnavigating the entire Old Town, along the shore down to Place Massena, up the grassy linear park that separates Old Town from the rest of Nice and back to our apartment. Old Nice is so small that our circumnavigation took less than an hour.
We walked back to the apartment to catch up e-mails and whatnot, but we couldn't let the sun set on such a day without watching. So we walked back through the market, which was now emptying as the vendors packed up all their wares to move to another market in another town the next day.
As expected, sunset was spectacular against a low bank of clouds that had developed behind the mountains to the west. But once the sun goes down, the air chills down too and rapidly. Within minutes, it felt like the temperature had dropped ten degrees, and we hustled home for a warming cocktail.
Just another ordinary day on the Med in winter.