On more than one occasion, we saw Optimists practicing out on the Mediterranean, so we assumed that Nice has a yacht club. Google said so. It must be true, right?
But I had e-mailed the yacht club on more than one occasion and never received an answer, so our quest was to find this elusive club and visit.
The club is located all the way on the other side of the port, which is a lengthy walk around the entire perimeter of the port.
Finally, after walking past several rather sleek, upscale looking restaurants and Nice's version of West Marine, we found it all the way at the end of the promenade–Yacht-Club de Nice.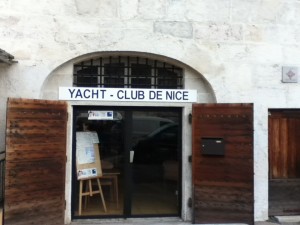 Now I know why they never answered–there is no one there. It's one room. Well, I guess they can't all be New York or Southern.
But the port has some sparkling yachts being made ready for the season, as their crews scurry about cleaning, repairing and painting.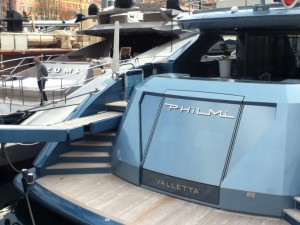 And the classic native boats were all tied up, waiting their turn for the new season to arrive. To us, they were more interesting.