It's time to go. Three weeks is plenty in Nice, although a year would be better. You can explore all the best of Nice in about two weeks. In the third, you start to feel like a resident, and that's pretty good.
Saturday was our last full day of leisure, as Sunday would be get-away day. The weather was as good as it ever has been, so we proceeded to the Promenade des Utas Uni for one last stroll along the Mediterranean in January weather warm enough for some hardy residents to swim in the ocean off the rocky beach. We walked all the way down along the Promenade past the huge grandstands now erected for the flower parade to Place Massena and the long linear park that covers the river Paillon.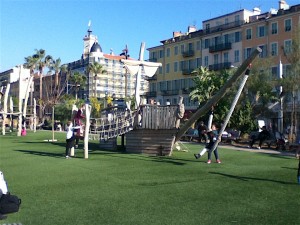 By the time we arrived at Place Garibaldi, we had pretty much circumnavigated Old Town in its entirety. We grabbed a club sandwich (the Nicoise version of a club is ham, turkey, tomatoes and brie on a baguette), then walked back into the park to soak up the sun and the atmosphere of our last day in beautiful Nice.
Sunday's chores could wait until after a proper brunch and Bloody Mary at Wayne's while watching the men's finals of the Australian Open.
Then it was time for laundry and maid service on the apartment. We packed bags to be ready for the next morning's ride out to the airport and realized that one of our bags was becoming very compromised. SO back out we went in search of a replacement.
It turned out we had been looking at the replacement the entire time we were doing laundry, as the bag shop across the street from the Lavomatique had one soft bag on rollers that almost exactly matched our old one falling apart. And for half the price we paid in the States. It may not be top quality, but it only has to last for five more weeks, three airline flights and one train ride.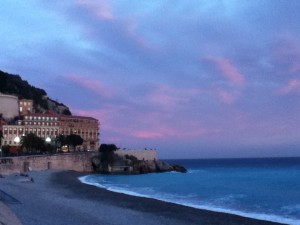 We capped off our three weeks in Nice with dinner at Les Garcons, again a memorable dining experience. The garcons outdid themselves with a hangar steak (Tom) and pork medallions (Lynn) in the same truffle sauce I had the last time we dined there. Tres bien. Au revoir, Nice. We'll be back. Promise.