When you spend an extended amount of time in a city, the first couple of days can be devoted to basic chores and familiarization. We familiarized ourselves Monday with a visit to the Central Market not once, but twice. The first time was a shopping trip for supplies in the vast ground level among stalls of produce, meats, cheeses, seafood, chocolates and assorted foodstuffs that make Europe such a wonderful place to eat.
Lynn picked out–but never touched–all of nearly ten euros worth of lettuce, shallots, tomatoes, mushrooms, onions, carrots, oranges, with a little parsley that the vendor threw in for lagniappe. Or whatever that word is in Italian. Then we marveled at the meat stalls, which are generally segmented by types of animal groups–pork, beef/veal, lamb (not so much here in Italy) and fowl, mostly chicken. The two different butchers expertly chopped the beef for bourguignon (ungloved) and whacked the chicken quarters apart, separating the leg and the thigh with one big swing.
Then it was off to the Carrefour Express supermarket for necessities like paper products, milk for coffee, soap, beer, Scotch and wine. (You can see where our preferences go.) Lynn actually touched a lemon in the produce section without donning plastic gloves, so we stealthily tucked it in its bag before the sanitary police could catch us.
These are the moments international travel is made for.
After hauling the goods back home and putting them away, we walked briskly through the rain back to the Central Market and up to the mammoth food court for a bit of lunch.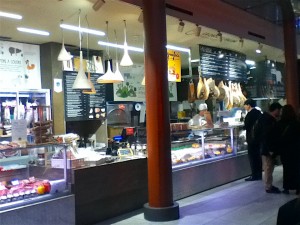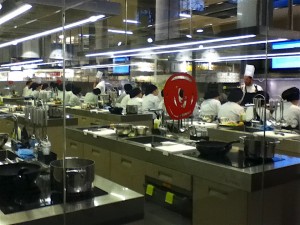 The food court was crowded but not totally packed as it had been Sunday. Lynn had a five-ingredient salad that she could not finish, but I couldn't resist an Italian farm-raised artisanal cheeseburger, loaded. God love the USA.
And then it rained the rest of the afternoon, so by 3 p.m. we were tucked comfortably in our most spacious apartment for cocktails and Lynn's pan seared poulet.