Finally, the sun came out on Thursday. Warmth bathed our faces as we walked down Via Nazionale for our last ride on the HOHO to take us down to the Arno. Our plan was to walk from the Arno River bus stop past the Galileo Museum, through the Uffizi arcades, the Piazza Signoria and up the street to the Duomo complex. Navigation wasn't hard–we just followed the crowds of tourists and students going the same way.
Some of the sights and landmarks we recalled from the last time we had visited Florence, which we figured out was only two years ago. As we walked past the David sculpture outside the Uffizi, Lynn and I engaged in a spirited discussion of which restaurant we had been sitting in at the Piazza Signoria when we were approached by the leather goods shysters last time.
The Duomo is a complex of spectacular religious buildings in the piazza with a splendid museum located in a much more modest building behind Santa Maria del Fiore, the Cathedral of Florence. The owner of our apartment had told us the day before to be sure to visit the museum. She could not have been more correct.
For 15 euros, you get a ticket to all the buildings in the Duomo complex: the Brunelleschi dome itself, if you want to walk up nearly 500 steps; the bell tower, if you want to walk up another nearly 500 steps; the Santa Reparata crypt and archeological excavation beneath the cathedral; the Baptistry and the museum itself, which is housed in the building where Michaelangelo created his David. Entrance to the church itself is free, as is just about all churches, since they are open to all us sinners. The museum is worth the 15 euros just by itself.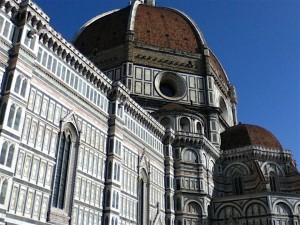 The original doors of the Baptistry, so admired by Michealangeo himself, are on display in the museum to keep them safe from the effects of tourists, atmosphere and pollution. Most impressive of all is a huge room where archeologists have partially reconstructed one of the unbuilt walls of an earlier church from actual fragments found on the site.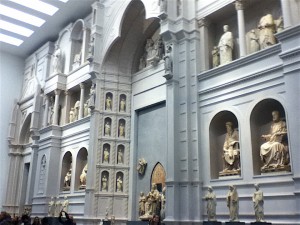 Michaelangelo's second Pieta and Donatello's wooden sculpture of the penitant Mary Magdalen draw the biggest crowds. Two tour groups vied for space and sights on our first round through the museum, but the rooms were empty as we left, so we took another close look at the Pieta and Mary Magdalen virtually alone with the art on our way out.
Other rooms showcase models of Brunelleschi's dome and of the new facade ordered up by the Medicis, who wanted a new,  more modern church. So much for preservation–the current facade is at least Santa Maria's third.