As long as we are this close for this long in Florence, we felt it shameful not to take a quick side trip to see Rome. Lynn booked a tour of the Vatican Museum, Sistine Chapel and St. Peter's, and I made reservations for an early train out and late train back. We booked a hotel room at the Alexandra right on Via Veneto on the advice of my cousins who have spent lots of time in Rome.
The train from Florence to Rome takes less than an hour and a half through mountains, tunnels, vineyards and fields of winter grass. This trip was much more scenic that the route from Venice to Florence.
The Alexandra is only a few steps from the Barbarini Metro station, which itself is only two stops from the major Roma Termini train station. Piazza Barbarini features the Triton Fountain, a major Bernini sculpture and mid-17th century Roman landmark. You feel like you have arrived in history when you emerge from the Metro station.
The Barbarini family was sort of to Rome what the Medicis were to Florence in their patronage of major art around the city. Their favorite sculptor was Bernini, and one of the Barbarini sons became Pope Urban VIII. That's how popes were "elected" in those days.
Although Rome has many buses for public transportation, it offers only two subway lines. While that makes travel very simple, it does clog Rome streets with buses at every corner. Combined with no fewer than six different HOHO tourist bus lines, the streets are jammed, even in late February, the lowest of low season.
We, of course, availed ourselves of the red HOHO to get a quick overview of Rome (10 per cent discount with your Florence receipt). Like many old historic cities (including New Orleans), the HOHO lines are routed around and not through the major attractions, so you can only view St. Peter's in the distance, and other major attractions like the Trevi Fountain are not in view at all. But the roundabout gives the new visitor a quick lesson in  geography, and in Rome a very nice view of the exterior of the Coliseum, Roman ruins and the Circus Maximus. The lines waiting to get into the Coliseum stretched around the corner for blocks. And this is low season.
Finished with our whirl-around tour, we were pretty hungry, so we grabbed a late pasta lunch at the restaurant next door to our hotel. When we finally got to our room in the Alexandra, we were amazed at its size. Our Rome hotel room was nearly the size of our Florence apartment. And the TV showed CNN and BBC news, the first we had seen since Paris.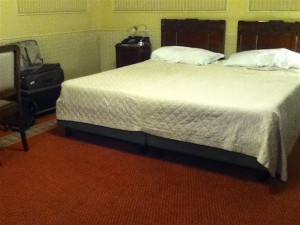 Now sustained and knowing our way around a bit, thanks to the HOHO, we ventured out to the Trevi Fountain just a few blocks from the hotel. The Trevi is truly an amazing sight, but we were not alone. The semi-circular steps surrounding the fountain were packed with people, mostly student-aged, taking photos, mostly selfies. Remember, this is low season.
What I found most remarkable was that the Trevi Fountain is not a typical stand-alone feature–it backs up to an office building.  How would you like to have that view from your cubicle window?
Not wanting to interfere with the students' narcissitic impulses to take selfies, we came, we saw, we left. Our walk took us on a large circle around our hotel up to a church and cloister, then around and down again toward Piazza Barbini.
As we walked down the street to the Hard Rock Cafe, I noticed a building flying the American flag, and we realized that this was the U.S. Embassy in Rome. I whipped out my little iPod camera to take a photo of the building to send to my cousin who had worked there several summers ago, but when the guard saw what I was doing, he waved me off in no uncertain terms. I just hope I don't show up on the no-fly list when it's time to go home. But, hey guys, the American embassy is not exactly trying to hide with that big Stars & Stripes flying over the doorway. I suppose after 9/11 in New York and 11/13 in Paris, no one can be too cautious. Thanks, Islam.
After all that traveling and walking, we had developed a thirst for a real cocktail. The Alexandra didn't have a bar, but the neighboring Imperial hotel a few doors up Via Veneto certainly did. Their bar is a tiny but oh so elegant room, and they know how to properly mix a cocktail. I ordered an Old Fashioned and Lynn had her usual vodka and soda, for which they charge an extra three euros for the bottle of fizzy water. European bars do not use guns the way Americans do, so you pay for the water on the side.
For 15 euros each, plus the three for Lynn's fizzy water, we also received a very generous plate of hors d'ouevres and a selection of fine nuts, just like the St. Regis in Florence. The cocktails were delicious, just what we needed to cap off a fine but long day. In fact, we ate enough to sate most of our late hunger, so we opted to eat Roman cheeseburgers across the street from the Alexandra.
Word of caution here: Europeans undercook their hamburger patties. What is medium to them is nearly raw to us. Order well done if you want your burger anywhere near cooked. But they are juicy.