Early in our Florence stay, Lynn had come across a tour of the surrounding hillsides in a vintage Fiat 500 that you get to drive yourself. What could be more fun? Or, after seeing Florentine drivers, more terrifying?
Walking down the street one rainy day, we stumbled across a company that sponsors the self-driving tour at a price almost half what we had been quoted by another company. And MyTours starts at the train station, just an eight-minute walk from our apartment, as opposed to several miles out in the hills. So we booked.
Tuesday morning, we met our guide Jimmy in front of the pharmacy at Santa Maria Novella station and walked a few short steps to the parking lot, where our assigned vintage 1972 Fiat CinqueCento (500 in Italian) sat waiting for us in its ancient glory, about the size of a kids' carny ride. Jimmy offered to drive to the check-in point, which was truly just on the other side of the station, and I was glad to take him up on his offer, not wanting to start my maiden voyage in the middle of Florence rush hour traffic.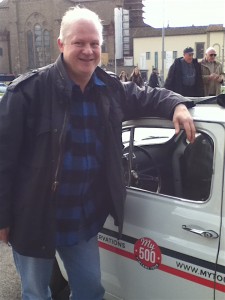 However, minutes later, I was driving through Florence rush hour traffic. We were on our way north toward Fiesole with Jimmy contorted into the vestigial back seat of the car chatting away about the history of Florence, the landmarks we would be seeing, his love for the Fiat 500 and his opinions of the Florentine dialect. Since we had visited Fiesole the day before, Jimmy was delighted to direct us to a different location up the hills that offered an expansive view of Florence under the first sunny skies we had enjoyed in at least four days.
Jimmy was quite the tour guide. Fluent in English, he explained that he is an architect by trade, originally from Venice and is one quarter Scot, one quarter Italian, one quarter Austrian and one quarter Slovenian (Trieste on the border of Italy). His father was an admiral in the Italian navy, and all his brothers joined the military except Jimmy himself, since every family needs a black sheep.
He is Jewish, but he married a Catholic Florentine in a little church behind the Ponte Vecchio, so he is stuck in Florence the rest of his life.  Because he grew up in a military family, he said when he was young they lived all over the world, including assignment to the Pentagon in Washington, D.C.
He collects American "muscle cars," as he called them, and showed us photos of his Pontiac Z28 Firebird, a 1972 Cadillac Seville and his prized Alfa Romeo Spyder. As we drove through the countryside, Jimmy extolled the virtues of the classic Fiat 500, which he said can be found for 3,000 or 4,000 euros today and restored is worth 7,000 euros or more. Hard to believe this little tin can with an engine hardly larger than an outboard could be worth so much today or anytime.
The Fiat 500 is fun, if not exhilarating, to drive. The clutch engages suddenly, and the little engine needs more gas than you think to get up and running in first gear because it is so underpowered. Fourth gear is strictly for overdrive, and I learned quickly not to even bother with it in the rolling hills. At one point we had to pull into a small village parking lot to let the engine "rest," as Jimmy could detect it was getting tired, aka ready to overheat. Behind the wheel, I could detect it was losing power too.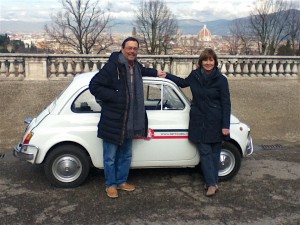 From the hills north of Florence, Jimmy directed us through more narrow, winding roads across the Arno and toward Piazzale Michelangeo, every tour's favorite lookout over Florence. Since we had been there more than a few times, we took a quick look and drove up to San Miniato al Monte, an 11th century Romanesque church whose facade and interior remain original to this day.  Jimmy explained (correctly, as we knew) that most facades of the more famous religious landmarks in Florence  were reconstructed in the 19th century.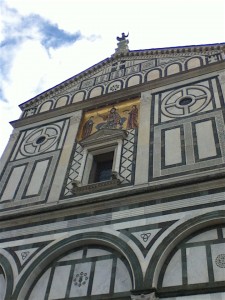 Then it was back toward the city, and by now, I was accustomed enough to the peculiarities of the Fiat 500 to brave Florentine mid-day traffic along much the same route we had taken two weeks before on the HoHo. As we moved into the center of town back toward the train station, Lynn realized that we were driving on Via Nazionale, directly across the park from our apartment. Since I was focused like a laser on the traffic in front of me, I never noticed.
Although we have walked that street literally scores of times in the last two weeks, I didn't recognize our own street from behind the wheel. What's going to happen when we gt home after three months away?