Our extended stay in Europe is drawing to a close.  Our senior semester abroad is about to reach finals. The feeling is a mixture of bittersweet and anticipation. I remember the same emotions as we prepared to depart from Idyll and the Caribbean 21 years ago.
It's not that we are homesick. I swear, I could be an ex-pat with no qualms. But, as in the Caribbean, when your plane ticket bears a certain approaching date, you start thinking about return. Had we been able to spend another month here in Europe, then we would be excited about leaving for Barcelona on Tuesday. Instead, we are anticipating going home to the U.S., truly eager to see our friends, sleep in our own bed, get on our boat and resume our regular day-to-day lives.
We have been here in Florence long enough to know our way around. We don't need a map anymore. In fact, I gave an Italian passerby directions to San Lorenzo the other day. That's the benefit of an extended stay in a city.
Maybe three weeks is a week too long. We have explored every church and every museum. We have traveled to Rome, Chianti countryside, Pisa, Fiesole and toured in a vintage Fiat 500. We have found our favorite restaurants and visited some of them as many as three times. At least two restaurants have discounted our checks by about 10 percent.
Now, in our last days in Florence, we are doing exactly what we did in Venice and Nice before that. We take our daily walk on our own familiar route. From our apartment overlooking Piazza della Independenza, we proceed to the sprawling street market at Mercato Centrale, then to Piazza San Lorenzo, then to the Duomo to marvel at Santa Maria del Fiori, then on to Piazza Signoria and the Uffizi on the Arno River. Our return takes us through the fashion corridor lined with every luxury brand from Armani to Zegna. Gucci and Ferragamo are headquartered here in Florence, and luxury fashion is a major industry, because it complements tourism so well.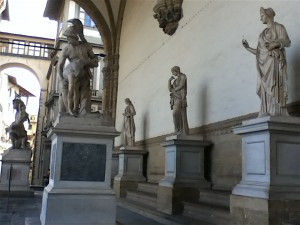 One common aspect to the last three cities we have visited–Nice, Venice and Florence–is that all of them are experiencing flat to declining populations. And all for the same reasons. Venice's population is declining more rapidly, but the historic centers of all three have become strictly tourist centers, too expensive, too congested, too restrictive for locals to live.
Here in Florence, hardly anyone actually lives in the center, except tourists and students. The upper and middle classes all live in the hills either north or south of the city, and the lower classes live in large multi-story apartment buildings on the periphery of the historic center.
The same is true of Vieux Nice, where vehicular traffic is severely restricted (as it is in Florence as well), and the majority of permanent residents live either in the outer city ring or the suburbs. And, of course, Venice is entirely tourist-centered. Venetians live in unattractive villages, towns and compounds on the mainland and commute into La Serenissima each day on the bus or the train to serve the tourists who now represent the sole industry supporting the city.
Makes me think of the French Quarter.