Candace Burns, Lynn's oldest friend in New Orleans, is finishing up three months in Barcelona, inspired by our magical trip last winter. Since Madrid is only a three-hour train ride away, Candy declared this was the perfect time to visit and catch up with Lynn before she heads back home to that center of Western culture, Houston.
Lynn made dinner reservations at Max Madrid, a very, very hip restaurant where we had dined last year on our one night in Madrid. The location is just down the street from the hotel where we stayed in that night, the Reina Victoria. Unfortunately, the hotel name somehow got garbled in the instructions, and Candy checked into the Regina Madrid, not far away but certainly not the five-star establishment that is the Reina Victoria.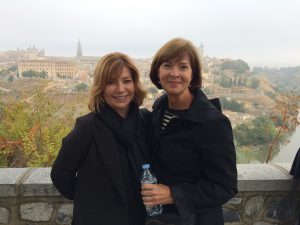 Nonetheless, we had no problem meeting up at the restaurant for drinks at Max Madrid's stylish bar followed by dinner in the their stylish back dining room. And dinner was spectacular. We all ordered the same dish–beef cheeks in a rich gravy, accompanied by their version of patatas bravas. Incredibly, after nearly three months in Barcelona, Candy had never had this quintessential Spanish appetizer.
Max Madrid's version of patatas bravas ladles over the potato chunks a rich sauce the consistency of barbeque but with a distinctly savory Spanish flavor. The Barcelona style we know uses a more aioli style sauce, but Max's was equally delicious in its own way.
At the end of dinner, we encountered a bit of language barrier. The waiter did not understand our request to take away (para llevar) what was left of the beef cheeks (a fair amount), but the manager made it good by simply bringing us an entire new portion. That is service that will be rewarded with a good review and a repeat visit. And they know how to make a Bloody Mary, as I witnessed personally.