After bidding adios to Candy over an 11 a.m. breakfast at Reina Victoria down the street from Max Madrid, your intrepid travelers went in search of the elusive Sunday Bloody Mary in Madrid.
To little avail. The waiter at Reina Victoria explained that their bar would not open until 5 p.m. "People here don't drink in the morning," he explained.
Well, we do on Sunday. Religiously. In fact, Sunday breakfast at 11 is pretty late for us. We usually have our Sunday breakfast by 9 a.m. starting with our ritual Bloody Mary.
The Reina Victoria faces a plaza where a number of restaurants and cervecerias had set up tables outside, rain or not. And it was raining, though lightly. Every establishment we walked into–including the one that showed a Bloody Mary on their exterior sign–either gave us a blank stare or just said "no."
It was 12:30 and Max Madrid would not open for another half-hour, so instead of doing the sensible thing and waiting 30 minutes, we decided to walk all the way back to Lavapies to see the the famous El Rastro flea market. Rastro is quite the scene, two rows of vendors under tents flanking both sides of the narrow street stretching on for blocks. The vendors offer the usual selections of leather goods, trinkets, clothing, toys, CDs and all sorts of miscellaneous merchandise collected from who knows where.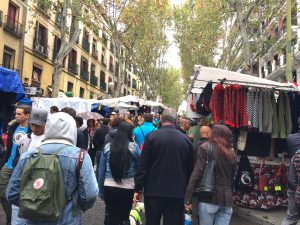 The brick and mortar stores on both sides of the street sell a variety of antiques and furniture that can only be described as "eclectic." Furniture to pocket knives, 35mm cameras to full size statuary are all here for the bargaining.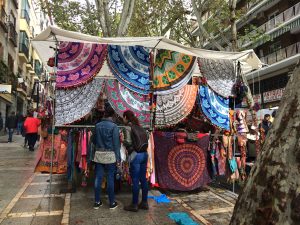 After a half hour working our way through the crowds in the light rain, we decided that El Rastro is not competition for Florence's mercado. So back up the hill we trudged to Max Madrid for the holy grail of Sunday alcohol.
A walk that should have taken 12 minutes turned into 20 as Apple Maps changed directions on us midway toward the hotel plaza. Nevertheless, we were virtually the only patrons in the restaurant when we walked in. The cute young bartendress on duty eagerly agreed that they serve a Bloody Mary, but when faced with the prospect of actually making one herself, she was forced to call in reinforcement from management. How hard can this be?
After a bit of coaching on the proper amount (and translation) of Lea & Perrins, our Sunday Bloody Marys finally appeared before us. And they were just fine. As late as we were, I did take come solace in the fact that it was only about 7:30 a.m. New Orleans time.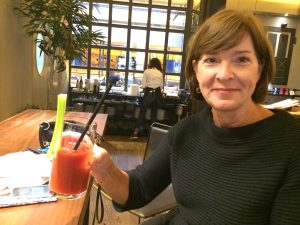 Now that all was right with the civilized world, we walked back down to Lavapies and encountered the Sunday afternoon crowds, complete with bands in two different places, one along the row of Indian restaurants on Calle Lavapies and another at the head of the plaza. One drum band sounded like they walked away from a Mardi Gras parade. This is one happening little neighborhood.