We slept in until well past dawn, which is saying something, considering dawn doesn't arrive until about 8:30 a.m. The streets of Paris were very quiet and all but deserted early on Christmas Day. But after lunch, people came out, and by afternoon the streets were active and festive.
Most stores were closed but many restaurants were open. We stopped at one of our summer haunts on the corner of Conti and Dauphine (easy for us to remember) for a Christmas Bloody Mary, which was pretty good, considering the French use only regular tomato juice, not a mix.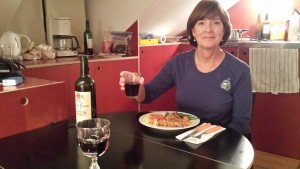 Back at the apartment, Lynn prepared her Christmas feast of pasta, haricots vert and a delicious veal osso buco. The formal dinner portrait was unfortunately taken on my Sprint phone, which has ceased texting, so remains captive inside the phone until the handset works again.