Now that we had seen the major museums, the Royal Palace, the cathedral and Toledo, and now that the rain seemed to have finally moved on, it was time to just wander the city of Madrid with no particular agenda.
But first things first. Lynn had to have her hair and nails done. Which left me with an hour and a half to kill. The hair salon was one street from the Reina Victoria Hotel and right near a major intersection where a huge renovation project is taking place. A most handsome old building is being converted to shops, apartments and Spain's first Four Seasons hotel. Sounds like the Trade Mart in New Orleans without the controversy.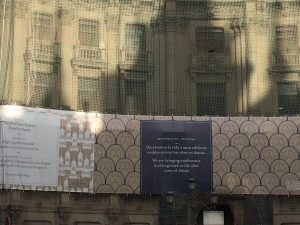 My wanderings took me to Puerta del Sol, the Times Square of Madrid where costumed cartoon characters approach tourists for photos and directions. Puerta del Sol is also the location of Madrid's Apple store, which always invites a visit. The Madrid store is quite spacious on two floors, most unlike the three-ring circus of a store in Lakeside Mall that is a tenth the space of Madrid's.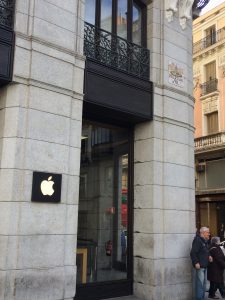 Once Lynn was coiffed and nailed, we started off on our agenda-free meandering through Madrid's downtown area. I was on the lookout for a jacket to replace the Musto windbreaker I had brought, which no longer has any water resistant quality whatsoever. Although we saw some beautiful jackets at splendid bargain prices, we just could not find what I need. Luckily, the weather forecast for the rest of our stay in Madrid is warm and sunny.
We walked the length of Calle Major, one of Madrid's major avenues, where Madrid's City Hall and government buildings are located. We were on a path down to the crypt behind the Santa Maria cathedral, curious to see it, as we had skipped it on our rainy visit the Saturday before.
Turns out the crypt is quite impressive, with large stained glass windows glowing into the dimly lit chapels lining the perimeter of the space. Completed in 1911, the Romanesque building attached to the rear of the cathedral features 558 columns and some 400 tombs, most of which are in the floor. (Watch your step!)
The altar is quite striking, centered at the end of a long row of columns. As we completed our walk around the perimeter of the crypt, we were surprised to see an actual funeral service being held, so made our departure without a good look up close at the altar. For a one euro donation, the crypt should be on the must-see list of attractions in Madrid.
Across the street from the crypt is what looks like a weed-filled park but actually is an archeological dig of Moorish ruins. There is no explanation or signage there, but I suspect the site will be more developed in the future as the ruins are unearthed.
We walked back up Calle Mayor past the row of restaurants catering to tourists with their photo menus displayed on the street hawking us in for lunch. We had other ideas though, and headed for Mercado San Miguel up the street.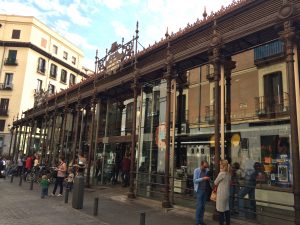 Mercado San Miguel is a much smaller version of Mercado Centrale in Florence. The food stalls inside sell an assortment of tapas, cheeses, seafood, olives, meats, sweets, wines and beers. Tables and chairs for diners are placed in the middle of the building, and it's hard to find an empty spot, even on a Tuesday. Overall, the place is fun when not too crowded, and we enjoyed a glass of wine and a couple of piquante Spanish meat pies. Most tasty.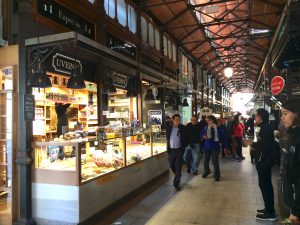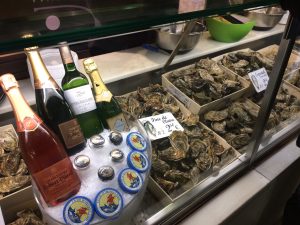 Then it was on to Plaza Mayor,  a large open square bounded on all four sides by handsome buildings that look for all the world like the Pontalba Apartments in the French Quarter. It reminds us that New Orleans was Spanish longer than it was French.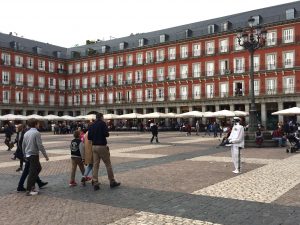 Plaza Mayor is a major tourist center, with restaurants setting up tables outside displaying large menus on easels showing photos of their dishes and waiters hustling patrons walking by. Do not be lured in. Find a restaurant without a photo-menu.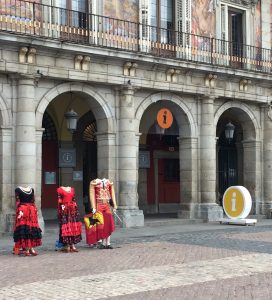 A number of headless mannequins dressed in cartoonish costumes stand by for tourists to take photos of themselves as matadors, contessas and other historical Spanish stereotypes. In the center of the courtyard is a statue of King Phillip III created in 1616 when the plaza was first proposed.
We walked through and moved on. After five hours of walking around Madrid, it was time for a nap and cocktails before another dinner at Taberna Antonio Sanchez.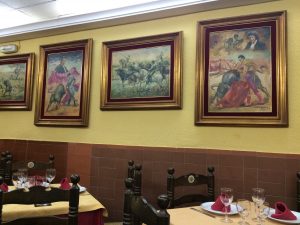 This time, Lynn, having learned her lesson about ordering fish in Madrid, chose the ox tail stew that I had so much enjoyed on our first visit there. I ordered the flank steak, which came out chewy but rich in flavor. Lynn indulged me when I ordered an appetizer of white anchovies in olive oil. They were delicious and tart. She would have nothing to do with little fishy tasting fish.