We have walked by ChantAirelle (yes, that is how it's spelled) dozens of times directly across the street from our apartment. The place looks like an old country inn, which turns out to be a deliberate decor.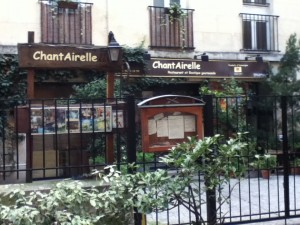 At the entrance, the restaurant displays various food products, mostly jams and jellies, from the Auvergne region in central France. Past the front counter is the small restaurant that offers a limited menu each day.
Returning from Chartres, we made reservations for a more Franco-friendly time of 8:30 p.m. That meant I needed to trudge down and up the hill and stairs again for pre-dinner wine.
We arrived precisely at 8:30 (did I mention the place is directly across the street?) and were directed to a little table for two in the center of the dining room. The owner/waiter suggested the house wine, which was a delicious blend of Gamay and pinot noir.
We split an entreé of paté smothered in a tomato coulis. For our main courses, Lynn ordered the duck and I could not resist the l'onglet, or hangar steak. Both were spectacular. Lynn's duck may be the best I have ever tasted, and my hangar steak was everything I could want, swimming in a sea of roquefort cheese sauce. It reminded me of a magical meal so many years ago in Martinique.
Total tab–71 euros, including the wine. (Remember, there is no sales tax in Europe, so at $1.10 or so to the Euro, the price of things here is just about exactly the same as the price in New Orleans with our nearly 10% sales tax.)
We will be back.