After three days of intense Gaudi gazing, we planned Saturday for a relaxing walk over to Barcelona's City Park and the fashionable Born area. That modest goal turned into a miles-long walk around Barcelona.
But first, we had errands, shopping at the Santa Caterina Mercat for meat, vegetables, cheese, paté, followed by a stop at the supermercat for paper products. Once again, we managed to misidentify paper towels for toilet paper, so we wound up with too much of the former and a looming shortage of the latter.
Market day accomplished, we ventured out toward Barcelona's City Park just a few blocks in the opposite direction from where we usually go.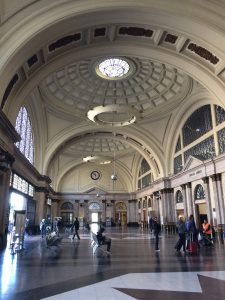 City Park here is pleasantly green, with large, wide walks that resemble the Tuilleries in Paris. The park was originally the site of the 1888 Barcelona World's Fair. On the seaside end of the park is the Barcelona Zoo, and on the far end downtown is the Arc de Triomf, which was built as the main entrance to the World's Fair site. It had to have some sort of purpose, because poor Barcelona did not have many triumphs to celebrate and build monuments to over the last five centuries.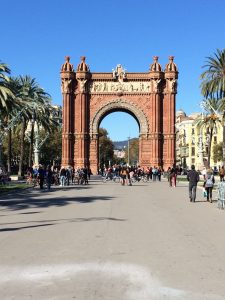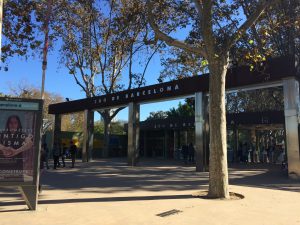 Between the zoo and the Arc at the northern end of the main park is Barcelona's museum of natural history, also known as the Castle of the Three Dragons. It too was built for the 1888 World's Fair as a cafe-restaurant but was late opening. Over the last 130 years or so, it has served as a museum of zoology, natural history, archeology and biology. It is considered characteristic of Barcelona's modernisme architectural movement of the late 19th century, and today serves as the Museum of Natural History.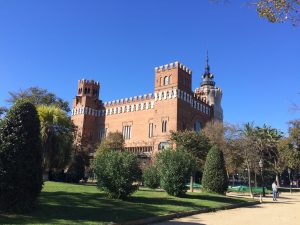 We kept walking past the Arc de Triomf and turned left on Calle de Trfalagar, where incidentally, we started out stay in Barcelona, because that is where Friendly Apartments has their headquarters. We visited with Friendly for a few minutes to complain about the dog barking next door and procure a new map to replace the thoroughly ripped one I have carried in my pocket the last two weeks. We really don't need the map anymore, but it has a good subway schematic that is quicker to refer to than the one on my phone.
From Friendly, we kept walking until we reach Via Laeitana again and started our way back toward the port. By now we were on the hunt for a lunch spot and found little Taperia Princesa, where we enjoyed a few tapas. For some reason, we didn't pay attention to what we were ordering, and we wound up with all meat dishes, including their "bomba," which is a meatball surrounded by mashed potatoes, then fried. "Bomba" in Catalan means exactly what it says–a bomb. And it was.
By now it was mid-afternoon, and we were getting fairly leg weary. We realized we had walked a few miles in a large circle around Born, Laietana, Barri Gotic and Port Vell, the waterfront. To reward ourselves, we stopped for a glass of wine at Fastnet, and on the way back to our apartment we inquired about the sign that offered the rental of a Porsche starting at 88 euros.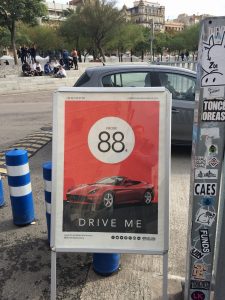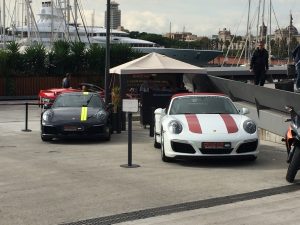 That would be for 20 minutes. An hour and a half would be 349 euros, and a full eight-hour day would run into the very high hundreds, depending on which car we chose. And that includes an instructor in the passenger seat to make sure you don't scratch the metal. We said we would think about it.
I remembered that our boat needs a wax job, which would cost about the same.