This one just pulled into the harbor and moored right in front of Phoenix 2.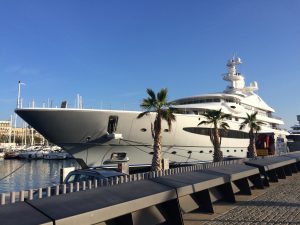 Mayan Queen is slightly longer than Phoenix 2 at 93 meters (306 feet). She is owned by Alberto Bailleries, reportedly the third richest person in Mexico with an estimated net worth of $10.9 billion. He owns the second largest mining company in Mexico, a large insurance company and a chunk of the largest Coca Cola bottler in Mexico.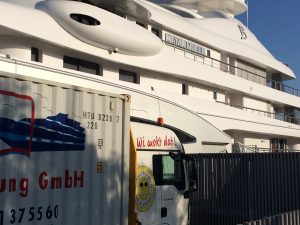 The boat was built in 2008 by Blohn + Voss, the same company that built the Queen Mary 2.
Just a guess, but I think that Barcelona may be the last stop in the Mediterranean for maxi yachts to stock up on fuel and stores before heading down to the Caribbean for the winter.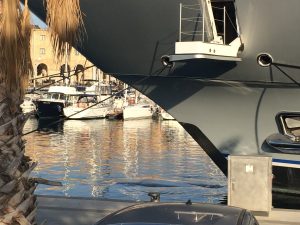 Mayan Queen's bulb is awash just forward of the bow, indicating she is riding pretty high on her lines. And a large service truck is parked alongside the quay. Meanwhile, the crews of both boats seem fairly busy in their chores, perhaps getting ready for the delivery to the islands.